Spotlight
---
Matching Grant from Ball Aerospace Makes Dual Award Possible for 2009 Lucy Enos Memorial Scholarship
Written by: developer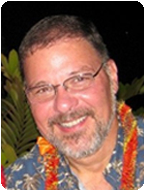 In May, the Space Foundation announced two winners of this year's Lucy Enos Memorial Scholarship. The 2009 recipients are: Jessica Kamalu, high school mathematics teacher at Ke Kula Kaiapuni 'o Anuenue, Honolulu; and Rod Floro, sixth grade physical science teacher at Kamehameha Schools Middle School, Hawaii Campus, Keaau.
"For the first time since the inception of the Lucy Enos Memorial Scholarship in 2005, we have received so many outstanding applications that we are awarding two scholarships    this year instead of one," said Space Foundation Chief Executive Officer Elliot Holokauahi Pulham (pictured). "We are grateful to Ball Aerospace & Technologies for providing a matching grant to the Space Foundation, making this year's dual award possible."
Pulham and his wife, Cynthia, fund the annual scholarship, which honors the memory of Pulham's grandmother, Lucy Enos, who was born in Pahala, Hawaii, in 1898.
The Enos scholarship provides professional development opportunities for educators of Hawaiian or part-Hawaiian ancestry, or who work with PreK -12 students of Hawaiian or part-Hawaiian ancestry. It covers tuition, fees, travel expenses, and lodging for recipients to travel to Colorado Springs and participate in one of the Space Foundation's week-long Space Discovery Institute courses.
The Space Discovery Institute offers six separate graduate-level courses:
• Biological and Physical Research: International Space Station Science & Space Law (June 15 - 19)
• Astronomy Principles for the Classroom: Exploring our Universe/The Search for Life (June 22 - 26)
• Space Technologies in the Classroom: Nanotechnology and Space Spinoffs (July 6 – 10)
• Earth Systems Science: Planetary Geology (July 13 -17)
• Lunar/Mars Exploration and Base Construction (July 13 -17)
• Rocketry: Space History (July 20 -24)
The Space Discovery Institute curriculum focuses on national standards and science, technology, engineering, and mathematics (STEM) principles. Master's degrees in curriculum and instruction, with a space studies science emphasis, are available.
Read about Kamalu and Floro in this issue of Space Watch.
This article is part of Space Watch: June 2009 (Volume: 8, Issue: 6).
---
Posted in Spotlight