Spotlight
---
Apollo 11 Recollections #1
Written by: developer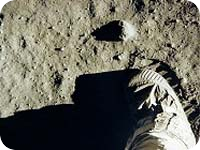 Inspiration Didn't Require Observation
Well at that time, I wasn't born yet, but I was inspired when I first heard it when I was nine years old. My parents were in the Philippines when that special amazing event happened. – Christopher Adan G.Calubaquib, Jr.
Will Always Remember Parents' Excitement
All the neighbor kids were outside playing and were called inside to watch. I remember our family went to the neighbor's because they had a nicer big color TV, although I remember seeing it in black and white. I was 7 at the time and did not understand why we were made to watch. I am glad to have witnessed this event and will always remember the excitement of our parents. – Sara Callahan
From the Wilderness to the Sky
I was almost 14 years old, living in the forest service's ranger station with my family in Sunlight Basin, Absaroka Mountains of northwest Wyoming, east of Yellowstone National Park. The game & fish station a mile down the road had TV reception and we did not, so we went down there to watch their TV and celebrate with friends. Since we were 50 miles from the nearest city, the sky was filled only with stars and not the lights of humanity. I can remember watching the TV, going outside and looking at the full moon (or it seemed full), going back in, etc. It was incredible! To this day I still celebrate July 20 regardless of which anniversary. I am so lucky to have "witnessed" this historical and magical event. In fact, I know it motivated me to go into science in college. After two degrees in botany, I decided to go into education. Now I teach high school chemistry, physical science, and math! – Bev
Bridging the Distance
I was at a 4H Citizenship conference in Washington, D.C., with kids attending from different states. The Massachusetts kids and the Mississippi kids (me included) couldn't hear enough of each others' accents and it was such fun to meet kids our own age from so far away (at least Massachusetts was very far away to me back in 1969). Now the Moon is not so far away! We all watched the event on a big screen. I remember trying to tell what we were seeing, the images were so bad, but we knew what was happening was truly historic! – Becky Fox Matthews
Teacher Remembers Apollo 11; Wants to Inspire Students to Reach for the Stars
My husband and I were newlyweds and still in college when we decided to take a vacation to the Upper Peninsula of Michigan. We had both gone through high school watching every space shot and being so excited about the space program. Since the hostel didn't have TVs in the rooms, on the day of July 20, 1969, everyone staying there jammed into the lobby to watch a small black and white television. When Neil Armstrong stepped on the moon, the crowd went wild!!! Everyone was so engaged and proud of the USA and its miraculous achievement. We all felt the the U.S. was fantastic and could succeed in anything it set its mind to. I consider this to be one of the greatest events of my life, along with giving birth to my children and meeting the Pope! I teach middle school science and I am quite sad that students feel so unexcited about the space program. I wish I could inspire them to want to reach for the stars – just the way all of us felt 40 years ago sitting on folding chairs in that tiny lobby. – Carol Pietrek
A Highlight of a 51-Year Space Career; On to Mars
I was living in Nassau Bay which is across NASA Road l from the Johnson Space Center main entrance. I was working for Philco Houston Operations Division of Philco Ford at the Johnson Space Center. My job was as an Assistant Communications Flight Controller in support of Deep Space Communications, Building 30 Communications Support Room, and that is where I was when Astronaut Armstrong stepped on the Moon. (Buzz Aldrin was my neighbor, our back yards joined, his swimming pool was just across the fence. He trained in that pool for his space walk which he completed in its entirety. My daughter babysat for the Aldrin children on many occasions. Astronaut Charles Bassett was also my neighbor, unfortunately and to our sorrow, Charles and Elliot See were killed in a plane crash in St. Louis. Alan Bean's home was just two houses away from ours. Astronaut Michael Collins lived just several blocks away.) I worked 51 years on Missile and Space Programs as an Engineer. I am now 88 years old. Northrop Grumman retired me when I was 81 years old. It was a great life and I still keep up with the Space Program, via Google, Space Letters and the NASA Site. Thanks for this opportunity and on to Mars. – Stan Clemenz, Azalea Trace Retirement Community, Pensacola, Florida
Still at KSC; Today is Like Deja Vu
The Apollo 11 experience started for me in 1966. While working for Grumman in New York, I was given the opportunity to work on the Lunar Module for the Apollo Program in Florida. I arrived in Cocoa Beach on Sept .22, 1966, and started my work as a Propellants Technician at Kennedy Space Center (KSC) where our goal was to send the first man to the Moon. In the beginning, it was a slow period just building GSE equipment, pulling miles and miles of electrical cables and making up pipes and tubing that carried propellants and fuels. After experiencing a setback in January of 1967 when a tragic Apollo 1 fire on CX 34 killed three astronauts, Grissom, Chaffee, and White, it took a year to retool for a safer space craft. You really can't tell the Apollo 11 story without talking about the people supporting on the ground. We had people from all over the country including seasoned pioneers from the Mercury and Gemini programs and many from other rocket programs that launched satellites and military hardware. We worked long hours, days, and weeks – not uncommon to work 12 hours a day for weeks on end. It took a strain on relationships and marriages. With our mission there were many launches to test the Lunar Module: Apollo 9, Apollo 10, and finally what we're here for – a man to the moon on Apollo 11. After many hours of testing and tweaking, we were ready. The morning of July 16, 1969, my wife and I and our 10-month-old daughter went out in our neighbor's boat to watch the launch. We went up the north end of the Banana River with about 1,000 other boats in the heat of the morning and at 0932 the huge Saturn V vehicle lifted off. My 8mm movie camera could not quite capture the strapping sound of the Saturn V that shook every window in the neighborhood, or the excitement of knowing we were on our way to the moon and I was a part of this. A few days later, my family and I, along with my fellow techs, engineers, and just good people, gathered at Sebastian Inlet's Long Point Park to celebrate the July 20th successful moon landing. Today, for me, it is like déjà vu. I am still at KSC working as an inspector on the new tower and mobile launcher for the Ares program that has similarities to the launch structure in the Apollo days and to me, it is still a LUT Tower. – Richard P. Koralewicz, Merritt Island, Fla.
Hope for Dad in Vietnam
As Apollo 11 approached the moon, my father, an Air Force pilot, was on his way to Vietnam for a one-year tour of duty. We were living in Austin, Texas, dreading Dad's departure, but the Apollo 11 mission provided my brothers, sisters, and me with a powerful – if temporary – diversion. In fact, you could say our collective fascination with aviation transformed into a family obsession with space flight. I always wondered why Buzz Aldrin didn't go first. Years later, I realized that he was the lunar module commander, so it was his job to ensure the ship's safety so that Armstrong could step out first. Everyone remembers who's first; but it takes a huge person to accept the role of No. 2. I got goosebumps not when Armstrong and Aldrin stepped on the moon, but when they stepped out of the capsule after a successful splashdown. I knew that if they could come home safely from the moon, then so could my Dad from Vietnam. – Charley, American Airlines, DFW Airport, Texas
Proud to Be an American
At twelve, I was alone watching a Zenith 1968 color television. Proud of being American, astounded at the rate of progress. – LunarPioneer on Twitter
Awestruck and Tearful
I was 8 years old, living on a farm in Creston, Neb. My whole family gathered around our black and white TV to watch. I was sitting on a footstool next to my dad and was totally awestruck. I remember being so filled with emotion that I was crying – and of course my family teased me about that endlessly! – Barb, Verizon, Basking Ridge, N.J.
It Happened; with Little Relevance to the Price of Eggs
I watched the moon landing at my aunt and uncle's farm in rural Augusta County, Va. A large antenna on the roof captured the signal from Harrisonburg, the nearest town with a TV station, about 15 miles away. My father's extended family crowded around the grainy black and white image in a small living room where, night and day, a police scanner constantly crackled in the background (a rural source of entertainment and breaking news). The house had no running water and was heated by woodstoves. My relatives acknowledged the event as they might react to an election in a foreign country, it happened, but had little relevance in their lives – it didn't impact the weather, the market price of eggs, or demand for milk. – Carol Hively, Space Foundation, Colorado Springs, Colo.
Glued to the Tube
I was watching TV, "glued to the tube," trying not to miss even an instant, absolutely fascinated. – TaylorTB on Twitter
Pretty Amazing
I was going to summer school at Western State College in Gunnison, Colo., We didn't have much access to TV, but managed to watch this. It was pretty amazing. – Bev, Denver, Colo.
Bonafide Excuse for Watching TV
I was growing up in Phoenix – it was a zillion degrees outside and I was so happy as a kid to have a bonafide excuse from mom & dad to be inside with A/C watching TV. The impact of the moment was too profound for a kid of 8 to really grasp, but I have carried that visual image of planting the flag in the moon dust my entire life. It has become an indelible life-time memory in black & white. Frankly, I still think the accomplishment is nothing short of astounding. – Barbara, Verizon, Southlake. Texas
This Was My Woodstock!
I was on the tarmac in a BWIA Boeing 727 Whisperjet on the island of Antigua enroute to Barbados for a surfing trip with my brother, [and some friends]. We were sipping Rum Punch in our seats when the pilot and captain of the flight announced through the loud speakers to all awaiting takeoff that "The Eagle Had Landed!" I vaguely remember him piping in the audio sound of the event through the speaker system on the plane so that we could actually join in on the event. The pilot had a British accent. So, the moment was even more surreal for me. I actually found myself losing track of where we were and what we were about to journey, as I was a huge follower of the NASA Space Program and every Mercury, Gemini and Apollo mission. P.S. This was my Woodstock! – Peter, University of Southern California, University Hills, Calif.
Missing a Lost Father; Sharing Inspiration through NOVA Special
Glacier National Park, on the Canadian side, watching on a little Sony b&w portable on a picnic table surrounded by our party and a dozen French-speaking Canadians, as the Moon hovered over the Rockies. I was 12 years old on a cross-country camping trip with several friends. As the landing took place, the French Canadians slapped us on the back and congratulated us heartily. We were so proud to be Americans and bask in the reflected glory. I was a fatherless child, and I had been a space buff for years. Something in the landing caused me such unbearable joy, and a release of unfathomable sorrow. Moments after the EVA was completed, I wandered into the woods to howl and sob. Why? Only years later was I aware that perhaps this was an event that my father, who abandoned my family when I was seven, might have been watching – and if life had been more equitable, or he a better man, we would have been watching together. I have revisited the event in many ways. In 1999, I produced a NOVA special for PBS called TO THE MOON, and I have written for AIR & SPACE magazine. I hope that my daughter's generation will carry Onward and Upward! – Geoffrey Little
Apollo Set my Career in Space Science
I was in Army Boot Camp at Indiantown Gap, Pa. I asked my Company Commander for authorized absence to go be with my mother and father in Washington, D.C., for the lunar landing, which I regarded as only slightly more significant than the domestication of fire. He refused, saying the "Moon thing" was just a political stunt and a waste of money. They never stop Boot Camp for anything. I went over his head to the Installation Commander who, as it turned out, fully intended to have all his family together to watch the landing. He directed that anyone on Indiantown Gap who could reasonably be with their families for the Lunar landing should do so, and that commanders must authorize it. As I stepped out onto the highway outside the front gate in uniform to try to hitchhike to Washington, the very first car stopped for me and he was on his way to New Jersey to be with his family for the event. He went well out of his way to take me directly to my front door in Washington! Watching the Apollo 11 landing was the only time I ever saw my father cry. He remembered the first radio in his rural Georgia farm town, and the first time he saw an airplane. He said: "You just THINK Apollo is wonderful. I KNOW it is! That I should ever live to see men walking on the Moon!" I think his reactions strongly reinforced my impression of the cosmic importance of the event. It was Apollo that set my career in space science. I worked with the Army Corps of Engineers on moonbase design, and in May 2009 built a full-size mock-up radiation shelter with airlock at the astronaut training area in Arizona. Apollo is alive! – Edward B. Kiker
You Were Here to See History Being Made
I was living in Vienna, Austria, at the time, but was spending the summer with my husband's family in West Hartford, Conn. We gathered in the master bedroom to watch the moon landing. Seven or eight of us piled onto and around my mother-in-law's bed to watch. I was 22. The rest of the group – my husband's siblings – were all kids in their teens. I held my son, seven months old at the time, on my lap. When Neil Armstrong exited the lander, I held Alexander up so he could see, and said, "Honey, you aren't going to remember this moment, but you were here to see history being made." – Gini Kramer
A Few Inches Closer to the Historic Event
I was a 14-year-old in Thornton, Colo., getting ready to go on a Boy Scout campout that Sunday night, but I couldn't leave until I watched the magic of Neil Armstrong setting foot on the moon. My parents, 13-year-old sister, and I were sitting in our family room in front of our black and white TV, all leaning forward, as if being a few inches closer to the TV would bring us closer to this incredible and historic event. In those few seconds before Armstrong hopped off the bottom rung of the spacecraft onto the gray dust, we were silent and held our breath collectively with the rest of the world until we heard those now famous words: "That's one small step for man, one giant leap for mankind." Our response was like we were watching fireworks: "Oh my." "Wow." "Can you believe this?" "That is SO cool!" "Amazing." – Evan McCollum
Can't Believe it was 40 Years Ago
I was 7 and watched the landing at my cousin's in Batavia, N.Y. I remember it was a hot day and very exciting. I wanted to be an astronaut, but never made that happen. Very exciting, can't believe it was 40 years ago. – Joe
To read more, click here. 
Photo courtesy of NASA
This article is part of Space Watch: August 2009 (Volume: 8, Issue: 8).
---
Posted in Spotlight