Spotlight
---
Apollo 11 Recollections #3
Written by: developer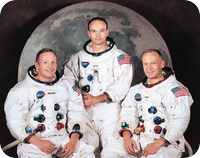 A Moment in Time I will Never Forget
My girl friend (my wife now of 38 years) and I were at our friends' apartment sitting by the TV waiting for Neil to step out. It was amazing. When he put his foot on the moon and said, "that's one small step for man, and one large step for mankind" it put chills through my body. We went outside to look at the moon, just standing looking at it we were all speechless for a few moments thinking there's a man on the moon. That was a moment in time I will never forget. – John R. Bukovac
We Could Do Anything
I was standing in the living room in my pajamas watching the TV thinking that if we could step on the moon we could do anything. – Greg Orndorff
Watching from Tokyo
I was six years old when I watched the Apollo moon landing on TV with my family in Tokyo, Japan. That was one of the most exciting memories in my childhood. In 1970, the next year, the International Exposition '70 was held in Osaka, Japan, and my family witnessed "the moon rock" in the U.S. exhibition center. I was much excited at the mock-up of spacecraft, rocket, and etc. It was a very hot summer day and it took 3-4 hours to reach the moon rock exhibition. Now I am working for the Japanese space agency. I am sure my dream started on the very hot summer day about 40 years ago. – Hitoshi Tsuruma
Everyone Was Home to Watch
Our family gigged as a band then, and we were playing at an Officer's Club at one of the local military bases that night. It was like a ghost town in there! Even with the fabulous buffet the club had prepared, that whole evening only one couple came in because everyone was glued to their televisions waiting for the big moment. We were happy to leave early and got home in time to make tuna sandwiches and red Kool-Aid before gluing ourselves to the tube to watch Neil Armstrong's famous step onto the lunar surface. We cheered and wiped our eyes along with Walter Cronkite. And it was the latest we stayed up on a non-gig night up to that point! – Linda Gomez Richter
Everyone There Felt Incredibly Proud
We, mom, dad, sister, were at Howes Caverns in Pennsylvania. We were at the visitors center waiting to go down into the caverns when they announced over their loudspeaker system that we had just landed on the moon. I believe everyone clapped, cheered, whistled. I, we, everyone there felt incredibly proud of what the U.S. had just achieved as a nation. Quite a moment. – Dr. Bernard "Ben" Stancati
Memories From Nebraska Gov. Dave Heineman: You Can Do Anything
I was in summer training at the U.S. Military Academy at West Point. I remember this mission well. The commander was Neil Armstrong, "Buzz" Aldrin was the lunar module pilot, and Michael Collins was the command module pilot. Buzz and Michael are both West Point graduates. In fact, several of the astronauts at the time were West Point graduates. There was a special partnership between the space program participants and West Point for this reason. I remember many occasions when these men would go into space and a month or so later they came back to West Point and presented a lecture, which was usually mostly Q & A for two hours in the evenings. It was special because we listened to these individuals who had just returned from space and who had done the same training as us while at West Point. The Apollo 11 mission made me feel proud of America and the individuals who had graduated from West Point. The biggest impact that the Apollo 11 mission has had is reaffirming that you should work to achieve your dreams, because they are possible to achieve, and to be the best American that you can be. The success of the Apollo program shows that you can do anything you set out to accomplish. In particular, Nebraskans are proud of Clayton Anderson, who is a great example of this. Clayton is from Ashland, Neb., and recently returned from a space mission. It was last year when I was sitting in my office and my assistant asked if I would take a call… from the International Space Station. I happily took the call and talked with Clayton for about five minutes. It was a once-in-a-lifetime experience for me. – Nebraska Governor Dave Heineman
One Giant Leap
I lucked out in picking the right time to be home for a 48-hour furlough from my summer camp counselor job. And I brought home with me a foreign exchange student who was in our country to work at the same camp. Together Ita and I stayed up late at night to watch the black and white images of Neil Armstrong stepping down the ladder to the surface of the moon. I was proud to be an American and I was proud that we hosted this exchange student. What was also amazing is that we were a Protestant family that hosted a Catholic student from war-torn Northern Ireland. We were indeed "One small step for man, one giant leap for mankind." – Kathleen Poe, Tampa, Florida
Apollo Represents the Promise of What is to Come
I was only one month old on July 20, 1969, so I have no memory of the event or the missions that followed. Presumably, all I cared about was eating and sleeping, and occasionally being difficult. Nevertheless, the landing of Apollo 11 became a very important part of my life. On that day, two human beings walked on another celestial body. Prior to that, on Apollo 8, human beings saw the Earth as an entire planet for the first time. Everything since the period between 1968 and 1972 changed – a new era of planetary awareness emerged. I was born into this new era. Me, the Earth, the Moon and all things everywhere and everywhen are intimately connected, and Apollo's giant leap made that thinking possible. Apollo does not represent what could have been. It is not a tragic story of abandonment or a lost cause. Rather, the Apollo missions represented a key wave of exploration which will be followed by others. Sometimes, it takes a long while before pioneers follow. It takes longer still for settlement. Yes, the Apollo missions were a series of Cold War technology battles against the Soviet Union, but this fact does not limit the profound meaning of the achievement. Apollo represents the promise of what is to come. In a sense, we have visited the base of a mighty mountain, and Armstrong, Aldrin, Collins, and tens of thousands of others successfully brought us there. Now, on their shoulders, we must toss the grappling hook across its face and begin the hard work of climbing that mountain. The summit is far off, but we will get there. And when we do, we will honor those early explorers who walked the dusty surface centuries earlier. Indeed, we will need this inspiration for many, many great mountains await us beyond. On July 20, 2069, when I am 100 years old, I sincerely hope that when I look up into the sky and behold Earth's nearest celestial neighbor, I can do so knowing that a handful of pioneers live, work, and play on its surface. My, what a profound thing that will be – people so far away and yet somehow close. I envy them. – Phil Smith
Just a Brief Glimpse
I was at summer ROTC advanced training at Fort Riley, Kan., and watched with fellow soldiers as the landing was made shortly after 10 p.m. local time. Typically, our fearless battalion commander's liege turned off the television immediately after the landing and we could see no more. – Tim Dix
Waited 40 Years to See the TV Broadcast
I remember that I was attending summer high school in Hawaii and I missed the live airing of the Apollo 11 landing and Neil Armstrong's first steps because I was in Algebra class. I remember feeling proud to be an American and it did steer me to go into math and sciences. I got to see bits and pieces of the landing that evening in the news, but it wasn't until 40 years later with the prominence of documentary DVDs that I got to see the TV broadcast in its entirety. – Wendell Young
Inspiration to Bring About Change
July 20th was my first full day of Army Basic Training at Fort Campbell, Ky. Instead of heading off into the field for my first mile run, all training was suspended for the day and we sat around glued to the radio. It was a moment filled with pride and a feeling about how good it was to be an American. President Kennedy was a tremendous inspiration to my generation and the realization of the objective he set for the country felt like closure on his legacy. It was during this time that I felt it possible to conquer personal obstacles and drive towards a dream of bringing about change. Even though I was not sure what I was going to change, the road I wound up following took me to the development of cable television (CATV with "Able Cable" as our mascot for those who remember), the satellite launch of Home Box Office starting with the "Thrilla in Manila" and into the era of nationally distributed cable programming. Space and all of its possibilities remains an inspiration. And Alan Stein, a fellow New Yorker, whom I met on that first day of basic training remains my best friend. Happy 40th! – Edward D. Horowitz
The American Soul is Strong and Will Only Get Stronger by Unity
That memory almost seems as a day or two ago, yet wow, so many years ago it actually was. I was five years old and it was my weekend with dad and his/my new family in Orlando, Fla. Dad worked for Channel 6, and had covered many different space events prior and post of astronauts return, especially the "return" parades along Cocoa Beach. Luckily, he didn't have to work and I remember that small yellow cinderblock house, and its 50's/60's retro living room, and all five of us crammed before this goliath wooden cabinet black and white TV that took up the entire wall it seemed, although maybe a 19″ screen. Then through the hazy noise of reception ("snow" as we called it) … we watched Walter Cronkite and the entirety of this epic and noble event, as it happened, live. I had seen, heard, and felt the launch as well as many other rockets scream the sky, either viewing from Orlando or from many ideal spots dad or mom and friends knew of along the riverways of Titusville/Brevard. But to watch and see after they had left Earth was beyond a new amazement. We were all glued to that hot, no A/C room, and watched all televised events, along with dad exclaiming what this really truly meant for Americans, for human beings, and yes, even the satellite transmission technology as well. I remember many snippets like it was yesterday, how we were seated along the floor and couch, watching live action lunar landing and then Neil stepping onto the moon and speaking back to earth. I was moonstruck, and wanted to be an astronaut or scientist right then (actually before, but that sealed my dreams and desires). This was, and still is, something that rattles my brain and pounds my heart. It is the most massive and epic event that I've witnessed and that empowered my drive at a young age. It required so many devoted American "guts" mixed with brains and inner spirit – pure brilliance and triumphs over many issues. To this day, I can still replay moment-by-moment this wondrous event in my life, and for all of Americans, and all human beings. I drive over the 520 Causeway every day, and every day, I look for the VAB and I still feel moved and empowered by the symbol it has and continues to project. It screams the American soul is strong and will only get stronger by unity. – Julian Bennett, Jr.
A Fitting Tribute to JFK
I went to visit friends in Silver Springs, Md., to watch the moon landing. I was an Army Nurse stationed at Walter Reed Hospital and did not have a television in my apartment. My friends invited me to visit and watch their television so that I would not miss this historic event. I have a vague memory of it being late in the night and waiting for what seemed like a long time for the landing to finally happen. It was an awe-inspiring feeling to see the United States flag being planted and hear those famous words. I can remember years earlier that President Kennedy pledged that the United States would go to the moon, and on this night, we did. Although Kennedy was not alive to witness his dream, I could not help but feel his presence and know that he was pleased. The moon landing success seemed a fitting tribute for our country's fallen hero. A bit of childhood fantasy was lost that night, there was no man in the moon and the moon was not green cheese. The whimsy of the secrets of the moon was replaced with scientific discovery and an amazing pride in my country. The United States was first, the champion of the space race. I would forever look at the moon differently after that night. It was still magical, it still gave light to the entire universe, but somewhere on its surface is the American Flag. I was then – and always will be – proud to be an American. – Donna Jenkins
Inspired to Work in Space
I was at Boy Scout Camp in upstate New York. I asked the camp ranger to find me a television so I and the other scouts could see Neil Armstrong and Buzz Aldrin walk on the moon. We were able to watch this incredible event from a 13-inch black and white TV from the camp dining facility. I was then inspired to become an engineer and work in the space industry as well as become an Eagle Scout since Mr. Armstrong is also an Eagle Scout. I told Mr. Armstrong this story at the Goddard Memorial Dinner last year. – Mike Bartnett
One of Millions
At home watching live on TV. – Craig Clark
Doing Nail-Biting Work to Support Apollo
During the weeks both preceding and following 7/20/69, I, as a 25-year-old engineer, was working 24/7 at the test labs of North American Rockwell in El Segundo, Calif., acceptance testing many of the flight article components for the Apollo Command Module. The shock absorbing struts for the crew couches, the ejection mechanism for the heat shield protective cover, and the parachute deployment mechanism were responsibilities which made each mission a nail-biter right up to the point when the radio blackout ended and the parachutes were visible. – Marty Pilmanis
A Dedicated "Spacey Groupie" Since Then
My husband and I had been married only six weeks and I had graduated from LSU seven weeks earlier with a degree in secondary science education. We watched a lot of the moon landing at our parents' homes since we were visiting in Baton Rouge before moving to Hammond, La., so my husband could finish college there. The black and white pictures were amazing – almost a religious experience for me!! I have remained a dedicated "spacey groupie" since then! My teaching has been centered around the space sciences to the point that I am lucky to be a NASA Solar System Ambassador/Educator! This has led to so many more experiences – attending many workshops sponsored by NASA all over the country, witnessing shuttle and space probe launches, flying the ZERO G flight for teachers. But the very best of all is that I have met so many outstanding, generous, patient scientists, fellow educators, and really cool students of all ages interested in perhaps living off-world one day!! – Linda Gauthier
Through a Window While on Guard Duty
Ft. Dix, N.J., walking guard duty. Saw the landing through a window outside the Bachelor Officers' Quarters. I ended up being an investor in, chairman of, and then board member of Orion Network Systems, which launched a transatlantic communications satellite around 1990. It was the first competitor to Intelsat. – Steve Halstedt, sent via BlackBerry
My Parents Wanted Me There
I was in front of the TV watching. I didn't really know what I was watching, though, as I was not quite 3 years old. My parents wanted me there so that I could say that I watched men walk on the moon. – Michael Grabois
Space Led to a Meaningful Teaching Career
The day Neil Armstrong first walked on the moon I was glued to my grandmother's TV set watching every moment, every step, listening to every word! I was a recent high school graduate from Kansas City, Mo., and I still have the entire section of The Kansas City Star from that event! How did that impact me? I have been a student of the game ever since. I married an Air Force Officer, and have been involved in aerospace education for over 30 years. I have begun aerospace education programs in five states, visited every teacher resource center possible, watched a shuttle launch in person, and been part of Nebraska's first-ever Educators' Aerospace Training Program. I have had astronauts visit my classroom and school, taken my school to space camp, and visited Johnson Space Center, and sat in Apollo Flight Control. I have also been a guest speaker/cheerleader for the space program. Big impact for me!! – Donna Daly
To read more, click here.
Photo courtesy of NASA
This article is part of Space Watch: August 2009 (Volume: 8, Issue: 8).
---
Posted in Spotlight