Spotlight
---
Apollo 11 Recollections #6
Written by: developer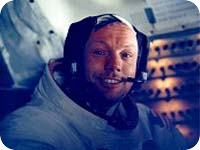 Expected with Certainty, and Welcomed with Eager Anticipation
In the summer of 1969, the summer I turned 18, I shared with millions of people the experience of watching a live transmission of a human being walking on the moon. A few days before that I shared an equally momentous experience with a much smaller percentage of the population: I witnessed the launch of Apollo 11 live from a prime location just across the Indian River from what was then known as Cape Kennedy. My friend Karen and I had graduated from Clearwater (Fla.) High School just that June. As something of a graduation present to ourselves we decided to drive across the state to witness the launch and visit Cocoa Beach. We took Karen's old Chevy, packed with a cooler of Dr. Pepper and tubes of Sea 'n Ski tanning lotion. We stayed with Karen's older cousin who lived in either Melbourne or Merritt Island (I've forgotten which). I do remember that the cousin was married to a guy who worked for NASA but was away working at the tracking station on Ascension Island. It seemed that many of her cousin's neighbors had connections to NASA as well. They arranged for all of us to take our lawn chairs to the roof of a building to watch the launch. Now, I had seen quite a few rocket launches (the Mercury and Gemini flights) on TV, and had on occasion seen the flare of a rocket as it disappeared into sky to the east of Clearwater. But nothing prepared me for the suspense I felt as the Saturn V climbed steadily aloft. I was holding my breath as I gripped the aluminum arms of my chair. I had expected to hear the thunderous roar of television and movie rockets, but instead the air vibrated with the rapid, booming staccato of millions of fireworks bursting simultaneously and in rapid succession. Those astronauts were heading into space on top of a series of controlled explosions! The danger of the enterprise was palpable. However exciting the launch and the subsequent moonwalk were, and despite the fact that they remain clear and powerful in my memory, they do not resonate as particularly transformative events in my life. Far from representing a change in the way I looked at the world, the trip to the moon represented a natural episode in the way I was raised to see the world. I am the child of an engineer who was employed in the air and space industry. He, like many of my friends' fathers, who were also engineers or scientists, placed his faith in technology, and taught us that our future would be enriched by it. My generation grew up with the "Twilight Zone" and Ray Bradbury. We read about Scott Crossfield, Chuck Yeager, and Alan Shepard in our Weekly Readers. On starry evenings we watched Sputnik and then, later, ECHO cross the sky. Schoolwork was suspended so that we could follow Gordon Cooper or John Glenn orbit the earth. We blew our minds at "2001: A Space Odyssey." We petitioned NBC not to cancel our favorite show, "Star Trek." We knew that space was indeed the final frontier, and that exploring it would be the work of many generations to come. Thus, for me those historic images that I witnessed on July 20, 1969, were not a giant leap for mankind. What I saw was something that was expected with certainty, and welcomed with eager anticipation: a baby's first step into a long life of growth and exploration. - Linda Rowe
A Vietnam Perspective
I was in Vietnam as an infantryman, it was a damp day, a light off-and-on drizzle. My helmet stuck out just far enough to keep my cigarette dry. We were assembled in ten-man groups waiting to board very small boats for transport down the Song Saigon River to patrol and set up ambushes. A radio operator whispered "we landed on the moon." All of our conversations were carried out in whispers. No one spoke, no cheering no clapping. Then a voice said "so what." - Anonymous.
Elation
I was at Jungle Survival School in the P.I. (and it was a break from the jungles in Viet Nam). The news when I returned to Clark AB was most exciting, but the info was limited. And, comparing the great moon landing with what was going on in Vietnam was difficult. The overall view was elation. - Frank Wissneski
A View From the Other Side
I was nine and was spending my first summer away from my parents in a Young Pioneer's Camp a few miles south of Moscow. I was hanging out with some of my friends by the pond down the hill from the main camp, when a camp counselor ran down the hill shouting "They are landing on the Moon!!!" The bunch of us took off uphill as fast as we could. Everyone gathered in the camp staff building. There, in the corner of the biggest room flickered a small black and white TV. And Neil was walking down the steps..... None of us understood English, and there were no subtitles, but we all knew that we will not forget this day and these fuzzy flickers as long as we lived. I can see it in my mind's eye like it was yesterday. - Anonymous
Hoping to Return to Cartoons
I was seven years old and living in St. Charles, Mo. My father worked for McDonnell-Douglas and had inspected parts for the Apollo and Gemini spacecraft. We were celebrating my sister's birthday and had spent most of the day hovering around the television. I, however, was sick of watching about the lunar mission and was glad they landed. I thought that the television networks would finally return to normal programming and I could watch cartoons again. - Diane Fisher
Time Stood Still
I was 18 years old and still living at home with my parents. I had just gotten out of the hospital a week earlier after being in a motorcycle accident and spending almost three months in the hospital. I remember watching the event on TV. It was very surreal. It was like everything stopped and time stood still. Unbelievable! I also remember my Italian grandmother calling our house later to talk to my Dad, her son, because she was terrified of the whole event. She had seen a lot of changes since the time she was born in the 1800's and this was just too much for her. - Cathy Fanelli
Sharing the Moment with a Diverse Assemblage
I was sitting on a sloped arena at the Boy Scout National Jamboree in Idaho. It was an amazing occasion being there with thousands of other Boy Scouts from all over the country, all cultures, all races, all teenage young men working toward becoming productive adults. When the landing occurred, there was thunderous applause from all the Scouts watching this historic event. - Hal Elliott
A Pub and a Bar Worlds Apart
I was in Dartmouth, Devon, in the UK, part of a group of young men about to graduate from the Britannia Royal Naval College enjoying the delights of the Floating Bridge pub on the river Dart. I recall we were standing outside the pub listening to a small and very tinny transistor radio looking up at the moon. While recall of specific details of what occurred are clouded by the effects of time and the more immediate effects of multiple pints of special bitter - the memory is clear that we were witnessing - albeit from some 235K miles away - a historic event. At the same time as we were enjoying the special bitter and a balmy southern England evening, my now wife was serving bucket drinks at the Mousetrap in Cocoa Beach! Some six years later I met my wife while on a visit to Port Canaveral to conduct a Demonstration and Shakedown Operation while serving in HMS REVENGE. On leaving the Royal Navy in 1988 and starting a second career in the USA, I finally ended up in Merritt Island, Fla., some 15 miles from the Apollo launch site. Now working in the space industry, I am participating in the development of the Constellation Program, currently the U.S. program to return humans to the moon and onwards to Mars. - Martyn Thomas
From Model Building to a Space Career
I was five years old living in Fairbanks, Alaska. I remember watching it all on a black and white TV and my Mom was so excited that she had me and my twin brother watch. A few years later I started dabbling in model building and Revell had a kit of the Lunar Lander and Command Module. My Mom sent away for it by mail. I was so thrilled putting it all together. Later on I joined the USAF and I had the opportunity to go into space operations performing command and control operations and launches working both Onizuaka AFS (the Blue Cube) and Schriever AFB. What a legacy - to follow-up childhood dreams and end up in the space business. I support space operations and business development opportunities today with General Dynamics C4 Systems and remain certified as a spacecraft engineer on UFO EHF Satellites for NAVSOC. - Timothy Lemons
I Thought What I was Doing was Difficult, But . . .
I was at what was then known as the CF&I Steel Mill, walking steel beams 50' to 60' in the air. I thought what I was doing was difficult with temperatures 105 to 108 degrees and 35 mph winds, but Apollo 11 gave me a different perspective. The technology of space exploration and the number of commercially viable items created as spinoffs, or in some cases nearly as originally designed, never ceases to amaze me. Many of us have had an endoscopy procedure of one sort or another; that technology is a direct result of space technology. The emergency blankets that almost all wildfire firefighters carry and use (and many of whom have had their lives saved) are another example of space technology being used in the 'real world' of everyday people. - Richard 'Reb' Williams [NOTE: to learn more about space discoveries that make life on Earth better, click here.]
I will Never Forget that Moment that Changed My Life
I was still a child, 15 years old, in my hometown in Mexico. In my household we did not have electricity (nor water/sewer, etc.), but I had a really good friend who invited me to her house to watch TV. She was the only person in that neighborhood with a TV set at home so I said, what the heck, I will go and see what that TV has today. Lo and behold, a man was walking on the moon! But the problem was that they were speaking in English and there were no announcers to translate what was going on. Elation is the only word I can describe of that day. Enthrallment could be another, the way I was when I saw that in the black and white apparatus they called "television." It was so incredible, to see someone doing just that, going out of space and walking on the moon. The moon is such an unknown place, a thing that is talked about in mythology only. In my childish eyes, that was so unreal, so unbelievable. And yes, I cried. I cried because ... I don't know why but there was so much beauty that day. I think that day changed me forever. As I grew older I wanted to read more about this beautiful country that can make this possible. I did not just want to read but to experience travel, to go "places." So I decided to become a teacher. In Mexico a person cannot dream about becoming a teacher, of "doing something" because, when you are poor you will always be poor. Time passed, more than twelve years and I still had that dream, to come to the United States to see if I could fulfill that dream. In the meantime, I married, had three kids and life was harder and harder. Mexico was in economic turmoil and I had difficulty making ends meet, with an unemployed husband and three kids to feed. I was 29 when I decided to move the family to Kansas, to work in a meatpacking company... who cares whether I did it legally or not... The point is that I needed to feed my family, to offer them more than I could afford in my own country. I worked six years in that company, then I got injured. One day, while I was working at that company I heard the name of this teacher, Christa McAuliffe, who died in this explosion. She was a teacher, my dream job! Well, since I got injured in that meatpacking company, I decided to begin learning English... then I wanted a GED, then I needed to continue, not to stop. I worked hard to get my Associate of Arts Degree. Then I got my four-year (Bachelor's) degree. And, finally, after more than 13 years of struggle, I obtained my teaching license. I am 56 years old now but I will never forget that moment that changed my life. - Dina Ross
Discoveries, Research, and Ideas Always are Motivating
I was 12 years old and we were on vacation in upstate New York. The area had three TV stations out of the Albany area and reception depended upon the weather. That day we sat around the 19" Zenith black and white TV set with aluminum foil on the antenna to get the best possible picture. It was pretty cool, we had studied the entire space program that spring and our summer homework was to watch the lunar landing. Our whole family watched the first step, over and over again and this was one of the reasons I became an earth science teacher, because science is always happening and discoveries, research, and ideas always are motivating. - Rich Callahan
Still Twinkling
I was still twinkling (not born yet). - Amy
No TV, a Break from a Test and a Lasting Impression
In India, it was July 21 and the exact time when Neil Armstrong stepped on the surface of the moon was 8.26 a.m. (IST). There was a lot of excitement and schools had declared a holiday. Thank God for the Apollo 11 mission because a school test which had been scheduled that day got cancelled. I was keenly following the descent of Eagle on a transistor radio because there was no TV in India at that time. We as students were eternally grateful to Armstrong and Aldrin. I broke the news to my folks about the successful touchdown and it took a minute for us to believe that man had landed on the moon, turning the dream of Jules Verne and other science fiction writers into a reality. On Oct. 26, 1969, when the three astronauts came to Mumbai as a part of their global tour, I stood at the junction of the Mahalakshmi Temple with the father of the Indian atomic bomb, Raja Ramanna, and his daughter, Nirupa, and waved to the astronauts as they went in the convoy. Years later on Nov. 17, 1995, I briefly met Neil Armstrong at the international air terminal when he came to Mumbai at the invitation of a mobile phone company. I took his autograph on a book written by Armstrong, Aldrin, and Collins and interviewed him briefly. The story made page one despite his monosyllabic replies!!!! - Srinivas Laxman
Wonderful Days to be in the Industry
I was working as a Structures Design Engineer with the then Martin Marietta Corp, on the Titan III series launch vehicles. I was at home that day. I watched the first TV pictures (black and white) and Neil Armstrong's first step off the ladder of the LEM. Very grainy pictures to say the least, but they made me excited to say I was working in the industry that was bringing about such achievements. I put in another 18 years with Martin after that and worked on many interesting projects, including the Manned Maneuvering Unit (MMU) and converting Titan II ICBMs into satellite launch vehicles. Wonderful days to be in the industry. - Eugene A. Horsman
From Watching to Teaching at Swigert Aerospace Academy
I was not married a year yet. We went with friends for a day at a local Milwaukee lake. I got a terrible sunburn, so we left early. While my husband put cream all over my hurting back, we turned on the TV to see Neil Armstrong land on the moon and give his famous quote. We commented on how "cool" it was to be experiencing this, but it wasn't until years later I realized how amazing that coincidence had been. Now, 40 years later, I am about to teach 8th grade at the new Swigert Aerospace Academy in Colorado Springs in partnership with the Space Foundation. Who could have guessed? - Lynn Whitacre
My Father Showed Us Who We Are
I was nine years old and my father had taken me and my three sisters to visit Washington, D.C., for the first time. It rained most of the day and I remember it being hot and muggy. We were 3,000 miles from home, Twenty-Nine Palms Marine Corps Base, visiting family on the east coast. We didn't get to watch a lot of the moon landing/walk that day because we were on the road between Jersey City, N.J., and Washington, D.C. We were able to hear some highlights of the day's events, but we saw very little from the moon. We did see/visit many historic sites, including the U.S. Capitol Building, the White House, the U.S. Marine Corps War Memorial (Iwo Jima), and JFK's gravesite - all very memorable. As we returned to New Jersey that evening, the roads were empty; everyone was watching the moon walk on TV. I will always remember 7/20/69, not just because of the moon landing, but because it was the day my father showed us who we are - Americans. RIP GySgt Spears, USMC. - Charles Spears
The Greatest Opportunities
I was in Alexandria, Va., visiting friends of the family where we all huddled around the TV that night to watch the awesome event. It was an especially nice way to end the day because that day my dad took his 14-year-old son to the Smithsonian Air and Space Museum. We went to see all the historical vehicles on display from the Wright Flyer to the X-15 (like Neil Armstrong flew), because of my intense interest in aerospace vehicles. One of my more humorous memories was seeing Roger Mudd, a CBS reporter covering the days' events at the museum wearing a straw hat with a model of the lunar lander attached to it. Those events absolutely cemented my desire to pursue a degree in engineering where I have had the greatest opportunities to build Space Shuttle External Tanks from ET-1 to date and participate in building heat shield ablator for all the Mars exploration vehicles from Pathfinder to Mars Science Laboratory. - Preston D. Landry
Intriguing and Exciting
I do remember that because I was sitting on my grandmother's lap in a rocking chair watching the whole process. It was very intriguing and exciting to see a man walk on the moon. I was six years old. What will the next 40 years hold for us? I'm not sure if we even had a color TV yet - I think we did not. - Corey Arndt
Inspired Career Choice; Concerned About the Future
I was 12-years old and spending a week with my cousin Greg. Our moms were enjoying a vacation, from us I'm sure, and were together visiting family out of town. Us guys were "roughing it" with no moms to cook us the good stuff and no microwave meals back then. We stayed up late to watch it happen on the black and white TV. I remember being so excited that I could hardly sleep that night. Greg and I stayed up most of the night talking about how we'd go to Mars when we grew up. We also talked about how we'd probably have flying cars to drive some day. Our favorite TV series at the time was "Lost in Space" so we just loved it all. Neil and Buzz, they were our heroes. Mom brought me home a big city newspaper with all the headlines and pictures on it; one of the most prized possessions from my childhood. It certainly inspired my career choices since I've been working on the Space Shuttle program for the past 22 years at Lockheed Martin in New Orleans. I'm certainly concerned about my future though. Next year at this time I may be standing on the roadside holding up a sign that reads: "Former Space Shuttle Engineer will build rockets for food." - Jeff Best
To read more, click here.
Photo Courtesy of NASA
This article is part of Space Watch: August 2009 (Volume: 8, Issue: 8).
---
Posted in Spotlight