Spotlight
---
Apollo 11 Stories: Hope, Inspiration, Awe and Pride
Written by: developer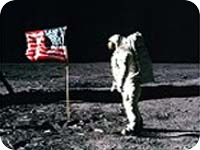 During July, the Space Foundation asked our Space Watch readers, staff members, friends, and colleagues to tell us where they were on July 20, 1969, when Neil Armstrong and Buzz Aldrin became the first humans to set foot on the Moon (Crewmate Michael Collins piloted the Command Module during the historic mission).  We were overwhelmed with responses – almost 200 stories of pride and inspiration.
The brief comments come from a wide range of people, including the governor of Nebraska, the former head of the European Space Agency, teachers, scientists, artists, pilots, homemakers, and even some young people who submitted memories from parents and grandparents. The most common themes found in the recollections are pride, awe, and inspiration to pursue scientific careers. The most common viewing scenario was a group of family and friends gathered around a small black-and-white television set – in locales as diverse as an urban apartment, a Boy Scout Jamboree, a remote military base, a youth hostel, or – of course – U.S. surburbia.
"The Apollo program had a tremendous impact on the United States," said Space Foundation Chief Executive Officer Elliot Pulham. "It built national pride and, more importantly, it influenced a whole generation of children to study hard to become scientists, engineers, and astronauts. We could use another program like that today to jumpstart the economy and reverse the disturbing trend of falling U.S. student proficiency in math and science."
The Space Foundation has articulated the education issues facing the nation in The Space Report 2009: The Authoritative Guide to Space Activity.
Because there are so many recollections, we've split them into easier-to-read groups of 20 each, published as separate articles in this edition of Space Watch. To read the first one, click here.
Photo courtesy of NASA
This article is part of Space Watch: August 2009 (Volume: 8, Issue: 8).
---
Posted in Spotlight