Spotlight
---
JSC Taps Space Technology Hall of Fame Inductee
Written by: developer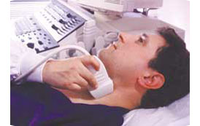 NASA's Johnson Space Center (JSC) is using ArterioVisionTM, one of the Space Foundation's Space Technology Hall of Fame inductees, to monitor the cardiovascular health of astronauts and trainees. Developed using the same imaging technology that NASA originally employed to detect the presence of ice on Mars, ArterioVision enables physicians to safely and accurately detect early warning signs of cardiovascular disease.
ArterioVision uses ultrasound technology to measure the thickness of the first two layers of the carotid artery wall to detect build-up of fats that thicken the wall. Wall thickening is an indicator of atherosclerosis – the underlying cause of heart attack and stroke. It is quick and painless, and does not expose patients to radiation.
The procedure was developed by Medical Technologies International founder and Chairman/CEO Gary Thompson in partnership with NASA's Jet Propulsion Laboratory (JPL), the California Institute of Technology, and the Keck School of Medicine at the University of Southern California. It is based on technology created at JPL in 1966 to interpret images sent from space by the Voyagers and Mars Reconnaissance Orbiter. Thompson worked with the research team to transfer the technology from the laboratory to physicians' offices throughout the country.
"There was no other test that could give doctors an early read on cardiovascular health," said Thompson, adding that other cardiovascular tests could miss a key risk if a patient were physically fit, with no visible symptoms. "That's why ArterioVision will be so valuable for NASA. Astronauts may have evidence of heart disease but not know it. Because they are so fit, they may pass all the usual tests."
Thompson spearheaded the clinical application of ArterioVision after he suffered a heart attack at age 50 while running a marathon. Visibly healthy and physically fit, he had passed a battery of medical tests prior to his attack. In 2008 ArterioVision was inducted into the Space Technology Hall of Fame.
The Space Foundation, in cooperation with NASA, established the Space Technology Hall of Fame in 1988 to increase public awareness of the benefits that result from space exploration programs and to encourage further innovation. Since that time, 61 technologies have been inducted.
Inducted technologies include energy-saving technologies, life-saving medical devices, health improvement technologies, satellite and telecommunication technologies, and practical commercial devices. Some noteworthy examples are the automatic external defibrillator; non-invasive breast biopsy technology; MRI and CAT scan imaging; anti-shock garments; LASIK eye surgery; implantable pacemakers and hearing aids; and technologies that power cellular phones, terrestrial networks, and satellite broadcast television and radio communications. The 2009 inductees were a life-saving food supplement derived from algae and space shuttle-based aerodynamic vehicle design that has revolutionized large trucks.
Additional information about the Space Technology Hall of Fame, including a complete list of inducted technologies, is available here.
 
This article is part of Space Watch: September 2009 (Volume: 8, Issue: 9).
---
Posted in Spotlight