Report from Headquarters
---
Nominations Sought for Education Award
Written by: developer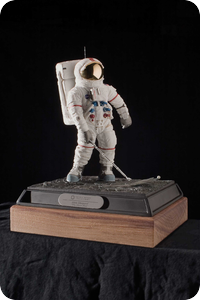 If you know an outstanding technology educator, act now to get him or her nominated for the 2010 Alan Shepard Technology in Education Award.
The award, which recognizes outstanding contributions by K-12 educators and district-level personnel in the field of educational technology, is presented annually by The Astronauts Memorial Foundation (AMF) in partnership with the Space Foundation and NASA.
The winner receives $1,000, a trophy (pictured), his/her name engraved with past winners' names on a plaque at the Center for Space Education at the Kennedy Space Center in Florida, and an expense-paid trip to the Space Foundation's 26th National Space Symposium April 12-15, 2010, at The Broadmoor Hotel in Colorado Springs, Colo. The honoree has formally presented the award at the Symposium's spectacular Opening Ceremony and can then participate in education programs for teachers at the Symposium.
Open to all K-12 school- and district-level educators across the U.S., the Alan Shepard Technology in Education Award recognizes excellence in the development and delivery of technology programs, with priority given to programs that focus on aerospace and/or aeronautics. The nominations must demonstrate how the program ultimately benefits students in a school or district. A school-level candidate must be nominated by his/her school principal and a district-level nominee must be nominated by his/her superintendent or associate superintendent.
This year's winner, Ricardo Soria, assistant principal of Choctawahatchee High School in Fort Walton Beach, Fla., was selected for his innovative elementary-level Engineers For America (EFA) program, which promotes science, technology, engineering, and mathematics (STEM) education through hands-on flight, aviation, and aerospace activities.
The award is named after astronaut Alan B. Shepard, Jr. (Rear Admiral, United States Navy, Ret.), who was the second person and the first American in space. He later commanded the Apollo 14 mission and was the fifth person to walk on the moon.
If you or someone you know is interested in applying for this prestigious Award, visit the Space Foundation Education website at www.SpaceFoundation.org/Education/Educators/Resources/Awards-and-Grants/Alan-Shepard-Technology-Education-Award or The Astronaut's Memorial Foundation website  for detailed information on submitting an application, the review process, and selection criteria.
All applications must be postmarked on or before Jan. 16, 2010. The 2010 Alan Shepard Award winner will be announced on the AMF website (www.amfcse.org) and the Space Foundation website (www.SpaceFoundation.org/Education) by March 5, 2010.
This article is part of Space Watch: October 2009 (Volume: 8, Issue: 10).
---
Posted in Report from Headquarters