Spotlight
---
Strategic Space Symposium Attracts a Crowd
Written by: developer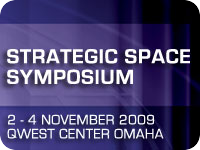 The Strategic Space Symposium is attracting more than 1,800 people to the Qwest Center Omaha in Omaha, Neb., Nov. 2-4, with a program that covers a broad range of space issues from the warfighter's perspective. An impressive group of speakers from the military, Department of Defense, U.S. and allied government, and industry are speaking on a variety of topics, including space situational awareness, defense of space, and protection of assets; current and future space policy; warfighting needs; and capability gaps in space technologies. For complete details, click here.
Much of the event is made possible through the suport of a number of major sponsors and co-sponsors:
Presented through a Space Foundation/United States Strategic Command partnership, the Strategic Space Symposium offers presentations, panel discussions, and highly interactive track and breakout sessions, and encourages collaboration, conversation, and creative interchange between the private sector and the government on challenging space operations and warfighter issues.
No federal endorsement of the Space Foundation or any of its members or affiliates is intended or implied. Sponsorship agreements are with the Space Foundation for programs and materials supplied by the Space Foundation.
This article is part of Space Watch: November 2009 (Volume: 8, Issue: 11).
---
Posted in Spotlight