Space Foundation News
---
Space Foundation Hosts Teacher Workshop; Student Tours at Strategic Space Symposium in Omaha
Written by: developer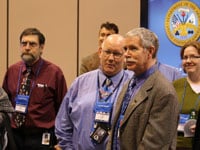 COLORADO SPRINGS, Colo. (Nov. 4, 2009) -- More than 300 students toured high-tech space exhibits and 70 teachers learned about resources to help them bring space into the classroom at the Strategic Space Symposium this week at the Qwest Center Omaha, in Omaha, Neb.
Presented through a Space Foundation/United States Strategic Command partnership and themed Advancing Space Capabilities and Strengthening Operations to Promote Global Security, the Strategic Space Symposium provided a platform for more than 1,800 attendees to discuss challenging space issues and shape space policy, in addition to showcasing industry best practices, cutting-edge technologies, and emerging space capabilities.
Students Visit 11 "Destination Booths" to See Space in Action
As part of the Space Foundation's educational outreach at the Symposium, the student tours included briefings at 11 of the almost 40 exhibits in the AMERICOM Government Services Exhibit Center:
The students, grades 8-12, came from middle and senior high schools from throughout Nebraska and parts of Iowa. The Nov. 3 and 4 tours were co-sponsored by Lockheed Martin and the NASA Nebraska Space Grant.
Teacher Space Seminar Provides Resource Information
Seventy K-12 teachers learned about space-related educational programs and resources available from the Space Foundation, Lockheed Martin, and the NASA Nebraska Space Grant at the Teacher Space Seminar, co-sponsored by Lockheed Martin and the NASA Nebraska Space Grant, on Nov. 3. The workshop included:
A comprehensive look at space-related teaching tools and events the Space Foundation, Lockheed Martin, and the NASA Nebraska Space Grant provide to help teachers strengthen lesson planning, classroom performance, and student interest in science, technology, engineering, and mathematics (STEM);
A presentation by Adrian Laffitte, director of Florida government relations for Lockheed Martin, about trends and developments in the space community and how those changes affect education;
A tour of the AMERICOM Government Services Exhibit Center, with education presentations at the Lockheed Martin and NASA Nebraska Space Grant booths; and
An opportunity to meet industry and military space leaders at a reception honoring the men and women of the United States Strategic Command, sponsored by Boeing.
Education is Key Space Foundation Mission
"Education is fundamental to the Space Foundation's mission to advance space-related endeavors to inspire, enable, and propel humanity," said Space Foundation Chief Executive Officer Elliot Pulham. "That's why we ensured that students had the opportunity to experience state-of-the-art technology displays by space industry leaders."
The Strategic Space Symposium education events complement the overall Space Foundation education program, which includes:
NEW HORIZONS, a program that infuses STEM education into a community through student enrichment programs, teacher workshops, field trips, town-hall meetings, and astronaut and space professional visits.
Space Foundation Discovery Institute, an aerospace-themed professional development, training and support center for teachers and students from around the world, serving as the base location for the Space Foundation's popular education programs. It houses classrooms, a NASA Educator Resource Center, and eventually will include three major laboratories: a simulated space mission operations center to open in early 2010; a simulated Martian terrain laboratory to open in early 2011; and, as funding becomes available, a Science on a Sphere facility in early 2012.
Space Across the Curriculum, offers week-long, intensive, graduate-level, in-residence courses to provide PreK-12 educators with space-related STEM education knowledge and content that is instantly transferable to the classroom. Participants can earn continuing education credits, graduate credits, or work toward a master's degree in multiple related disciplines. Courses are offered at the Space Foundation Discovery Institute and in select school districts across the country.
STARS (Science, Technology, and Academic Readiness for Space), a hands-on science enrichment program based on a school's specific academic needs. STARS includes Space Foundation-provided instruction each week, and follow-up classroom activities on topics such as astronomy, earth systems science, principles of flight, and rocketry.
Educators National Science Standards and Lesson Bank, free downloadable PreK-12 national science standards-based lessons (www.ScienceStandardsLessons.org).
Teacher Liaisons, advocates for space science education who: receive Space Foundation training and resources to further integrate space into their classrooms; and participate in workshops and education programs at the Space Foundation's annual National Space Symposium in Colorado Springs. The program is in its sixth year and has 275 active participants. Honorees are selected by a panel comprising experienced Teacher Liaisons and representatives from the space industry and the military.
Space Career Fair, an annual event in conjunction with the National Space Symposium that provides university students and transitioning military personnel opportunities to network with the largest employers in the space industry, to submit resumes, and, potentially, to interview for jobs. Space Career Fair is the leading source of information regarding current and future career opportunities, industry trends, upcoming space-related workforce needs, and it attracts more than 300 attendees from across the country.
Jack Swigert Aerospace Academy, an aerospace-focused public middle school created in conjunction with Colorado Springs School District 11 that drives STEAM (science, technology, engineering, art, and mathemathics) proficiency through a space-related curriculum, enhanced onsite laboratories and learning opportunities, and involvement with Space Foundation programs.
Participation in advanced degrees for teachers and space professionals. Space Across the Curriculum classes form a significant amount of the curriculum for four master's degrees offered to elementary, middle, and high school teachers through the College of Education at the University of Colorado at Colorado Springs and one master's degree through Regis University. The Space Foundation also hosts one of the modules for the International Space University's space-related Executive MBA.
For more information, go to https://www.spacefoundation.org/what-we-do/education/
---
Posted in Space Foundation News