Space Foundation News
---
Murrett Outlines Geospatial Intelligence Agency Goals
Written by: developer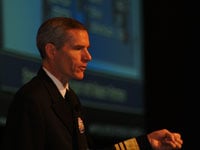 COLORADO SPRINGS, Colo. (Nov. 4, 2009) — Vice Adm. Robert B. Murrett, director of the National Geospatial-Intelligence Agency, underscored a common message of collaboration and international cooperation in his morning remarks at the Strategic Space Symposium today in Omaha, Neb.
The head of the U.S. Department of Defense agency that manages and provides imagery and geospatial information for diverse military, civil, and international needs said that many levels of collaboration – interagency, commercial/government, and international – have improved his agency's ability to support operational needs. He credited much of the advancement to arrangements with both commercial and international space providers that increase capacity and improve the flexibility and adaptability.
In outlining critical success factors for geospatial intelligence, Murrett named six objectives:
Balance warfight and critical long-term mission requirements
Move to an integrated, sensor-neutral architecture
Expand intelligence community, Department of Defense, and industry engagement
Retain and deepen workforce expertise
Accelerate forward-based geospatial-intelligence with community partners
Sustain consistent research and development investment to include space capabilities
The Strategic Space Symposium continues today at the Qwest Center Omaha in Omaha, Neb.
Presented through a Space Foundation/United States Strategic Command partnership and themed Advancing Space Capabilities and Strengthening Operations to Promote Global Security, the Strategic Space Symposium is providing a platform for discussing challenging space issues and shaping space policy, in addition to showcasing industry best practices, cutting-edge technologies, and emerging space capabilities. For more details on the agenda, click here.
Major Space Foundation Strategic Space Symposium sponsors include:
Additional Space Foundation co-sponsors include Analytical Graphics, Inc., ATK, AVIATION WEEK; the Bellevue (Nebraska) Chamber of Commerce, Boeing, CISCO Systems, Inc., CSC, CSP Associates, Defense Systems, Intelsat General Corporation, Integral Systems, Inc., Lockheed Martin, ManTech, the NASA Nebraska Space Grant, Sterling Computers, and SpaceX.
No federal endorsement of the Space Foundation or any of its members or affiliates is intended or implied. Sponsorship agreements are with the Space Foundation for programs and materials supplied by the Space Foundation.
# # #
 
---
Posted in Space Foundation News