Report from Headquarters
---
See, Understand, and Act
Written by: developer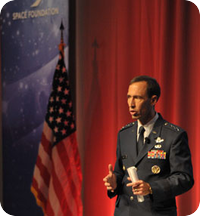 Speaking at the Nov. 4 Strategic Space Symposium luncheon sponsored by Raytheon, both Lt. Gen. Larry D. James, USAF, commander, JFCC - Space, and Lt. Gen. Kevin T. Campbell, USA, commander, JFCC - Integrated Missile Defense, emphasized that the end objective for their commands is to ensure that warfighters on the ground have the information and assets they need to effectively and safely perform their jobs.
According to James (pictured), this means detailed space situational awareness (SSA); a process that provides complete upfront details about every space launch; an agile acquisition process; and integration of space into all planning.
Campbell said troops on the ground need topnotch SSA so that they can "see first, understand first, and then act." He said he needs "persistence, assuredness, responsiveness, and versatility" and he asked for architecture that is flexible enough to meet broad and rapidly changing challenges in the field.
For more on these remarks, click here.
To read more about the Strategic Space Symposium, read the articles in this issue of Space Watch.
Photo courtesy of United States Strategic Command.
James is also sheduled to speak at the 26th National Space Symposium.
This article is part of Space Watch: December 2009 (Volume: 8, Issue: 12).
---
Posted in Report from Headquarters