Spotlight
---
Space Foundation Adds Cyber 1.0 Conference
Written by: developer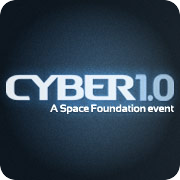 The 26th National Space Symposium is adding an important new event that will even further expand the reach and impact of the premier gathering of the global space community.
Cyber 1.0 is a Space Foundation conference that will address the Air Force Space Command (AFSPC) mission in cyberspace. It will be held on April 12 at The Broadmoor Hotel in Colorado Springs. Confirmed speakers include key leaders from AFSPC.
Although 26th National Space Symposium attendance is not a requirement for attending Cyber 1.0, special discounts will be given to Symposium registrants. More details will be announced as the event takes shape.
What is Cyberspace?
Cyberspace is the modulation of electromagnetic energy to achieve a wide range of communication and control system capabilities. It integrates sensors, signals, connections, transmissions, processors, and controllers to create an interdependent network of information technology infrastructures and telecommunications networks.
From a military perspective, cyberspace is a domain for both strategic and tactical operations characterized by the use of electronics and the electromagnetic spectrum to store, modify, and exchange data via networked systems and associated physical infrastructures. This includes defending or attacking computer networks and using communication and global positioning system satellites. In October 2008, cyberspace responsibilities were aligned under AFSPC to capitalize on inherent synergies found in space and cyberspace architectures, processes, skill sets, and training.
The term cyberspace was coined by the science fiction author William Gibson in his 1982 story "Burning Chrome" and popularized by his 1984 novel Neuromancer.
For more information on the 26th National Space Symposium, click here.
This article is part of Space Watch: December 2009 (Volume: 8, Issue: 12).
---
Posted in Spotlight