Spotlight
---
Symposium Sponsors and Exhibitors are in Place
Written by: developer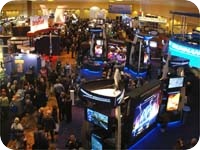 Slated for April 12-15 at The Broadmoor Hotel in Colorado Springs, Colo., the 26th National Space Symposium will cover all the critical facets of the space industry – presented by the people who are making the decisions, running the companies, establishing the policies, and setting the course for the future
More than 140 companies and organizations from across the space industry will showcase their technology in the expansive exhibit center at the 26th National Space Symposium. See the list of exhibitors here.
The Exhibit Center, sponsored by AMERICOM Government Services (AGS), is already sold out and a number of key sponsorships have been taken. In addition to AGS, major co-sponsors include Northrop Grumman for the spectacular Opening Ceremony, and Boeing for the Corporate Sponsorship Dinner. Other Symposium co-sponsors to date are ATK, Ball Aerospace & Technologies Corp., Cisco Systems, Inc., GMV, General Dynamics, International Space University, Pratt & Whitney Rocketdyne, Raytheon, SAIC, and United Space Alliance.
Additional sponsorship opportunities are available; interested companies should contact [email protected]. To be put on the waiting list for exhibit space, contact [email protected].
Corporate Memberships Provide Opportunities for Involvement
Becoming a Space Foundation Corporate Member provides year-round benefits with a number of special opportunities at the National Space Symposium. This includes: advance notice of event sponsorship and business opportunities, complimentary or special rate registrations, preferential exhibit hall positioning, reduced exhibit booth rates, room allocations at The Broadmoor Hotel, inclusion in special invitation-only events, opportunities to provide input and/or speakers for the Symposium agenda, and much more. A list of current corporate members can be found by clicking here. Interested companies should contact [email protected].
This article is part of Space Watch: December 2009 (Volume: 8, Issue: 12).
---
Posted in Spotlight