Report from Headquarters
---
Voice of the Commands
Written by: developer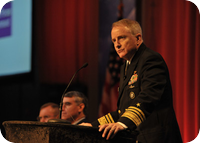 Following Gen. Chilton's remarks, the Combatant Command Panel (Joint Operations: Space as a Force Multiplier) panel, moderated by Vice Adm. Carl Mauney, USN, deputy commander, United States Strategic Command (pictured at lectern), offered their perspectives to the Strategic Space Symposium attendees on the space-related challenges, solutions, and opportunities that affect their operations.
Lt. Gen. Francis Kearney, III, USA, deputy commander, United States Special Operations Command outlined challenges: acquiring signal in difficult-to-reach areas; ensuring accurate geolocation; and working in an environment where the speed of data can outpace the speed of decision-making.
Lt. Gen. Steven Blum, USA, deputy commander, United States Northern Command, called for a "team of teams" involving multiple commands in the U.S. and around the world.
Lt. Gen. P.K. Keen, USA, military deputy commander, United States Southern Command, discussed non-military applications supported by the commands, including policing drug traffic, tracking hurricanes, and managing natural resources.
Maj. Gen. Harold W. "Punch" Moulton, II, USAF, director of Operations, United States European Command, said international collaboration is critical.
To see more on this panel, click here.
To read more about the Strategic Space Symposium, read the articles in this issue of Space Watch.
Photo courtesy of the United States Strategic Command.
This article is part of Space Watch: December 2009 (Volume: 8, Issue: 12).
---
Posted in Report from Headquarters