Space Foundation Press Releases
---
Space Foundation Recognizes Leonard Nimoy with Douglas S. Morrow Public Outreach Award
Written by: developer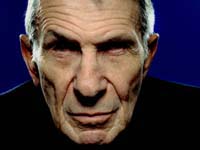 COLORADO SPRINGS, Colo. (Jan. 12, 2010) — Leonard Nimoy, who has inspired people around the world to explore the wonders of science, space, and technology through his television and motion picture portrayals of Star Trek's Mr. Spock, will be honored April 15 by the Space Foundation as the winner of the 2010 Douglas S. Morrow Public Outreach Award. The award will be presented on the final evening of the 26th National Space Symposium at the Space Technology Hall of Fame Dinner, sponsored by Lockheed Martin, where Nimoy will also appear as the featured speaker. "Television and movies play a tremendous role in shaping public opinion – especially in the space industry, which grew up in parallel with television," said Elliot Pulham, Space Foundation chief executive officer. "Leonard Nimoy created a positive role model who inspired untold numbers of viewers to learn more about the universe. Many of those people are ardent space supporters and industry leaders today."
The Space Foundation annually presents the Douglas S. Morrow Public Outreach Award to an individual or organization that has made significant contributions to public awareness of space programs. The award's namesake was an Academy Award winning writer and producer, space advocate, and former director of the Space Foundation.
About Nimoy
Nimoy has enjoyed a long acting and directing career since gaining worldwide fame on Star Trek during the 1960s. From the original series, through the original motion pictures, to the 2009 blockbuster film Star Trek, he brought dignity and intelligence to one of the most revered characters in science fiction.
A native of Boston, Nimoy pursued his acting career after his feature film debut in 1951. He debuted as the half-human/half-Vulcan Spock in1966, creating a character to which he contributed many of his own elements, including the Vulcan Nerve Pinch and the Vulcan salute. One of TV's most successful series, Star Trek garnered Nimoy three Emmy nominations during its three-year run. After the series ended in 1969, Nimoy spent two years playing the role of "The Great Paris," a master of disguise on Mission Impossible.
Nimoy's theater credits include Fiddler on the Roof, Oliver, Camelot, and Equus. He has hosted the well-known TV series In Search of… and Ancient Mysteries, written several volumes of poetry, guest-starred on multiple television shows, and appeared in made-for-television films.
Nimoy reprised his role as Mr. Spock in the box-office and critical hit Star Trek: The Motion Picture in 1979. He returned for 1982's sequel, Star Trek: The Wrath of Khan, and directed the third and fourth installments in the series: 1984's Star Trek III: The Search for Spock and 1986's Star Trek IV: The Voyage Home. In 1987, he directed the enormously successful Three Men and a Baby and in 1992, he showcased his first screenwriting effort with Vincent, an adaptation of a former work that he directed and starred in.
Recently, Nimoy has focused on photography and philanthropy. He returned to screen in the blockbuster Star Trek (2009), where he played an older Spock who meets a younger version of himself, played by Zachary Quinto.
About the Morrow Award
Designed to recognize those who create a positive public environment for space, the Morrow Award has a long list of distinguished recipients: astronaut Eileen Collins, actor/director Tom Hanks, the X PRIZE Foundation, LIFE magazine, space artist Robert T. McCall, the late Gene Roddenberry and Majel Barrett Roddenberry, Popular Science magazine, the crew of Space Shuttle Mission STS-95, NASA's Jet Propulsion Laboratory, and the Cable News Network (CNN).
About the 26th National Space Symposium
Presented by the Space Foundation, the 26th National Space Symposium brings together all sectors of space – civil, commercial, military, and intelligence – to highlight accomplishments and address opportunities and issues facing the global space community. It will be held April 12-15 at The Broadmoor Hotel in Colorado Springs, Colo.
The Symposium offers presentations, panels, forums, and workshops, plus a number of special dinners and luncheons, and presentation of several prestigious space-related awards, including Douglas S. Morrow Public Outreach Award. The Symposium concludes with the Space Technology Hall of Fame Dinner, where Nimoy is the featured speaker. Since 1988, the Space Technology Hall of Fame, in cooperation with NASA, has honored those who transform technology originally developed for space into products and services that help improve the quality of life here on Earth. Visit www.SpaceTechHallofFame.org for more detail.
The National Space Symposium's top allure to attendees, exhibitors, sponsors, and speakers – of which there were nearly 8,000 in 2009 – is as a venue for networking and conducting meaningful business.
 Online registration and more information, including agenda, speakers, and exhibitors, are available at www.NationalSpaceSymposium.org.
About the Space Foundation
The Space Foundation is an international, nonprofit organization and the foremost advocate for all sectors of the space industry – civil, commercial, military and intelligence. Founded in 1983, the Space Foundation is a leader in space awareness activities, educational programs that bring space into the classroom, and major industry events, all in support of its mission "to advance space-related endeavors to inspire, enable, and propel humanity." An expert in all aspects of the global space industry, the Space Foundation publishes The Space Report: The Authoritative Guide to Global Space Activity and provides three indices that track daily performance of the space industry. Through its Space Certification and Space Technology Hall of Fame programs, the Space Foundation recognizes space-based technologies and innovations that have been adapted to improve life on Earth. Headquartered in Colorado Springs, the Space Foundation conducts research, analysis, and government affairs activities from its Washington, D.C., office and has field representatives in Houston, Texas, and Cape Canaveral, Fla. For more information, visit www.SpaceFoundation.org. Follow us on Twitter, Facebook, and LinkedIn, and read about the latest space news and Space Foundation activities in Space Watch.
 
###
 
---
Posted in Space Foundation Press Releases