Spotlight
---
Muilenburg to Provide Industry Perspective
Written by: developer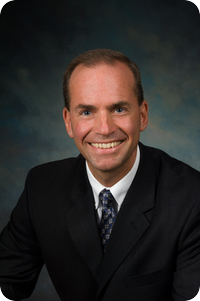 Dennis R. Muilenburg, executive vice president of The Boeing Company and president and chief executive officer of Boeing's Defense, Space & Security unit, will provide a commercial space industry perspective as a featured speaker at the Space Foundation's 26th National Space Symposium. He joins a slate of speakers that includes leaders from military, intelligence, civil, commercial, and academic space organizations from around the world.
Muilenburg, who has been with Boeing since 1985, has served in a number of influential leadership roles, including president of Boeing Global Services & Support, vice president and general manager of the Boeing Combat Systems division and program manager for Future Combat Systems (FCS), vice president of programs and engineering for Boeing Air Traffic Management, and director of weapon systems for the Boeing Joint Strike Fighter program.
Muilenburg holds a bachelor's degree in aerospace engineering from Iowa State University and a master's degree in aeronautics and astronautics from the University of Washington. He is co-holder of the patent on the Boeing JSF design concept. Actively involved in the Association of the United States Army (AUSA), Muilenburg is also an Associate Fellow of the American Institute of Aeronautics and Astronautics (AIAA), a Fellow of the Royal Aeronautical Society, a member of the St. Louis Science Center board of trustees, and a member of the board of directors of the St. Louis Sports Commission.
About Defense, Space & Security
The $32 billion Boeing Defense, Space & Security (BDS) unit provides defense, government, space, intelligence and security customers with end-to-end large-scale system services that enhance air-, land-, sea- and space-based platforms. The unit designs, produces, modifies, and supports military, civil, and commercial fighters, bombers, transports, rotorcraft, aerial refuelers, missiles, munitions, and spacecraft, as well as developing enhanced capabilities using network-centric operations, communications and intelligence, and surveillance and reconnaissance technologies.
BDS serves as a system integrator on several programs of national significance: NASA's Space Shuttle and International Space Station programs; the Missile Defense Agency's Ground-Based Midcourse Defense program; the Army's Brigade Combat Team Modernization program; and SBInet, a critical component of the Secure Border Initiative managed by the Department of Homeland Security. Headquartered in St. Louis, BDS has operations in St. Louis; Southern California; Seattle; San Antonio; Houston; Philadelphia; Mesa, Ariz.; Huntsville, Ala.; the Space Coast of Florida; Washington, D.C.; Australia; Saudi Arabia; and the United Kingdom.
This article is part of Space Watch: Februrary 2010 (Volume: 9, Issue: 2).
---
Posted in Spotlight