Spotlight
---
Cyber 1.0 is Nearly Full
Written by: developer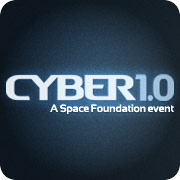 Interest in Cyber 1.0, a new component of the 26th National Space Symposium, has been so great that the event is nearly sold out.
Conducted by the Space Foundation April 12 at The Broadmoor Hotel in Colorado Springs, Colo., the conference will explore the realm of cyberspace, its impact on military operations and civilian life, national security, commerce, and communications. Cyber 1.0 will feature presentations by senior Air Force Space Command (AFSPC) and industry leaders, interactive displays, a policy-focused luncheon, and networking opportunities.
The Cyber 1.0 agenda includes:
• The Cyber 1.0 Networking Breakfast, sponsored by Booz Allen Hamilton
• A "cyber reality" discussion that explores the pervasive influence of the cyber domain on myriad aspects of modern life;
• A detailed overview of the Air Force's cyberspace mission;
• Interactive demonstrations from AFSPC Command Units and commercial cyberspace providers;
• A detailed discussion of cyber acquisition policies and procedures; and
• The Cyber 1.0 Luncheon, sponsored by General Dynamics, which looks at the domain from a policy perspective.
Although 26th National Space Symposium registration is not a requirement for attending Cyber 1.0, Symposium registrants will receive a $100 discount off the $395 Cyber 1.0 fee.

This article is part of Space Watch: March 2010 (Volume: 9, Issue: 3).
---
Posted in Spotlight