Spotlight
---
Swigert Award Goes to LCROSS Mission
Written by: developer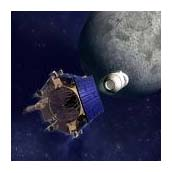 The mission that definitively proved the presence of water on the Moon has been selected as the 2010 recipient of the Space Foundation's John L. "Jack" Swigert, Jr., Award for Space Exploration. The Lunar CRater Observation and Sensing Satellite (LCROSS) mission team will be honored April 12 during the 26th National Space Symposium Opening Ceremony, sponsored by Northrop Grumman, at The Broadmoor Hotel in Colorado Springs, Colo.
Managed and operated by NASA Ames Research Center working in conjunction with spacecraft and integration partner Northrop Grumman and launch partner United Launch Alliance, LCROSS sought to confirm the presence of water ice in a permanently shadowed crater near a lunar polar region. Concentrated hydrogen signatures had been detected in that area in 1999 by NASA's Lunar Prospector. LCROSS employed the unusual technique of crashing a spacecraft into the Moon in order to observe and analyze the resulting debris plume created by the impact.
"For decades, scientists believed the Moon to be dry and devoid of life," said Space Foundation Chief Executive Officer Elliot Pulham. "But, now, thanks to LCROSS, we have a completely different perspective – one that could lead to further exploration and discovery."
Pulham said that the confirmation of water ice was part of the reason the LCROSS team was selected for the Swigert Award, but not the entire rationale. "We were impressed with the way LCROSS leveraged both civil and commercial assets into a relatively low-cost, fast-turnaround project. Big bang – both figuratively and literally – for relatively little bucks."
About the LCROSS Mission
Launched together with the Lunar Reconnaissance Orbiter (LRO) aboard an Atlas V rocket in June 2009, LCROSS was part of the Lunar Precursor Robotic Program, one of the first American missions to the Moon in over ten years. Holding on to a Centaur upper stage booster rocket, the LCROSS shepherding spacecraft orbited the Earth and Moon for several months to achieve the mission's optimal impact angle, which was important to accomplish the largest debris plume possible. Plus, the long orbit depleted the spacecraft's fuel supply to prevent lunar contamination. On Oct. 9, 2009, the Centaur rocket separated from the LCROSS sheparding spacecraft and crashed into the Cabeus crater near the south pole of the Moon. Following four minutes behind the Centaur, the LCROSS shepherding spacecraft passed through the resulting debris plume, collecting and relaying data until it also crashed into the crater. 
Using spectrometers, cameras, and a radiometer, LCROSS captured data of the debris plume as it encountered sunlight, which causes water-ice, hydrocarbons, or organics to vaporize and break down into their basic components. In November 2009, NASA scientists confirmed that the plume did, indeed, contain water ice – in larger amounts than originally suspected. This is an important finding that could influence future lunar exploration.
About the Award
The John L. "Jack" Swigert, Jr., Award for Space Exploration honors astronaut Jack Swigert, a Colorado native who served with retired U.S. Navy Captain James A. Lovell, Jr., and Fred Haise on the legendary Apollo 13 lunar mission, which was aborted en route to the Moon after the perilous rupture of an oxygen tank. People around the world watched as NASA overcame tremendous odds to return the crew safely to Earth. Before joining the Apollo program, Swigert was a combat pilot for the U.S. Air Force in Japan and Korea and an engineering test pilot for North American Aviation, Inc., and Pratt and Whitney. In 1982, he was elected to the U.S. House of Representatives, but died of cancer before taking the oath of office.
The Space Foundation, founded in 1983 in part to honor Swigert's memory, created the Swigert Award in 2004 in tribute to his lasting legacy of space exploration. Previous recipients include NASA's Phoenix Mars Lander Team, the Japan Aerospace Exploration Agency (JAXA), The California Institute of Technology, NASA's Jet Propulsion Laboratory, NASA's Mars Exploration Team from JPL, and President George W. Bush.
About NASA Ames Research Center
One of 10 NASA field installations, Ames Research Center plays a critical role in virtually all NASA missions in support of America's space and aeronautics programs. As a leader in information technology research with a focus on supercomputing, networking and intelligent systems, Ames conducts the critical R&D and develops the enabling technologies that make NASA missions possible. Ames also is a leader in nanotechnology, fundamental space biology, biotechnology, aerospace and thermal protection systems, and human factors research. Ames research in astrobiology focuses on the effects of gravity on living things, and the nature and distribution of stars, planets, and life in the universe. In addition, Ames works collaboratively with the FAA, conducting research in air traffic management to make safer, cheaper, and more efficient air travel a reality. Ames engages in information and education outreach, forms collaborative partnerships, and fosters commercial application of NASA technologies. Ames is located at Moffett Field, Calif. For more information on Ames, go to www.nasa.gov/centers/ames.
About Northrop Grumman
Northrop Grumman Corporation is a leading global security company with 120,000 employees who provide innovative systems, products, and solutions in aerospace, electronics, information systems, shipbuilding, and technical services to government and commercial customers worldwide. Among the air, space, and cyberspace products that Northrop Grumman provides are: manned and unmanned aircraft; space systems and payloads for military and civilian applications; missile systems; computer network operations; cyber security systems; targeting and battle management systems; airborne early warning and control radar systems; and situational awareness and fiber-optic gyro-based navigation systems. For more information on Northrop Grumman, go to www.northropgrumman.com.
About United Launch Alliance
Formed in December 2006, United Launch Alliance (ULA) is a 50-50 joint venture owned by Lockheed Martin and The Boeing Company. ULA brings together two of the launch industry's most experienced and successful teams – Atlas and Delta – to provide reliable, cost-efficient space launch services for the U.S. government, including the Department of Defense, NASA, the National Reconnaissance Office, and other organizations. Atlas and Delta expendable launch vehicles have supported America's presence in space for more than 50 years, carrying a variety of payloads including weather, telecommunications, and national security satellites that protect and improve life on Earth, as well as deep space and interplanetary exploration missions that further our knowledge of the universe. With three families of launch vehicles – Atlas V, Delta II, and Delta IV – ULA continues the tradition of supporting strategic U.S. space initiatives. ULA program management, engineering, test and mission support functions are headquartered in Denver, Colo. Manufacturing, assembly and integration operations are located at Decatur, Ala., Denver, Colo., Harlingen, Tex., and San Diego, Calif. Launch operations are located at Cape Canaveral Air Force Station, Fla., and at Vandenberg Air Force Base, Calif. For more information on ULA, go to www.unitedlaunchalliance.com.
This article is part of Space Watch: March 2010 (Volume: 9, Issue: 3).
---
Posted in Spotlight