Spotlight
---
A Gift from ISU
Written by: developer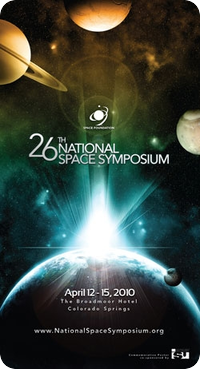 One of the many perks for 26th National Space Symposium attendees will be the commemorative poster, a gift of International Space University (ISU). Created by Space Foundation artist Paul Parson, the 20 inch by 36 inch poster depicts a view from space of a brilliant burst of light emanating from Earth's orbit.
"The design is intended to convey a major event, not just on Earth, but within the conceptual reference of space," said Parson.
Parson, who has a bachelor's degree in visual arts from the University of California, San Diego, joined the Space Foundation in 2007. As Art Director his duties include web and print design, photography, and video work. This is his first year creating the poster for the National Space Symposium.
ISU provides graduate-level training to the future leaders of the emerging global space community at its Central Campus in Strasbourg, France, and at locations around the world. In its two-month Space Studies Program and one-year masters program, ISU offers its students a unique Core Curriculum covering all disciplines related to space programs and enterprises – space science, space engineering, systems engineering, space policy and law, business and management, and space and society. Both programs also involve an intense student research Team Project providing international graduate students and young space professionals the opportunity to solve complex problems by working together in an intercultural environment.
Since its founding in 1987, ISU has graduated more than 2,900 students from 100 countries. One-quarter of ISU's global alumni population are women, and the percentage is growing. In fact, one-third of its U.S. alumni are women, and in the class of 2008, U.S. women enrollees outnumbered U.S. men.
The Space Foundation is a supporter of ISU and hosted one of its Executive MBA modules in Colorado Springs in March, with students attending from nine countries.
 
This article is part of Space Watch: April 2010 (Volume: 9, Issue: 4).
---
Posted in Spotlight