Report from Headquarters
---
Announcing Six New Corporate Members
Written by: developer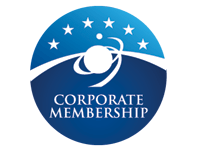 Membership with the Space Foundation places companies in the presence of industry giants and other successful, growing companies in the space industry. Space Foundation corporate members benefit from advance notice of Foundation event sponsorship and business opportunities, preferential exhibit hall positioning, reduced exhibit booth rates, complimentary event registrations, and much more. The Space Foundation announces six new additions to corporate membership.
The Space Foundation welcomes Surrey Satellite Technology and TASC as corporate members at the Partner level.
Surrey Satellite Technology US LLC (SSTL) has been sending small satellites into space successfully and economically for more than 28 years. SSTL launched its first satellite in partnership with NASA in 1981, and since then its global business has reached across five continents. Surrey specializes in designing, building and launching small satellites quickly and cost-effectively, making space accessible and affordable.
TASC is a non-conflicted provider of advanced system engineering, integration and decision-support services across the intelligence community, Department of Defense, and civilian agencies of the federal government. Operating for more than 40 years, TASC's broad portfolio of services includes system and policy analysis; program, financial and acquisition management; enterprise engineering and integration; advanced concept and technology development; and test and evaluation.
The Space Foundation welcomes DFL Space LLC, Maui Economic Development Board, SM&A, and SpaceGroundAnalgam, LLC, as corporate members at the Patron level.
DFL Space LLC is the namesake company of Debra Facktor Lepore, an aerospace executive, engineer, and entrepreneur with over 20 years experience, nearly all of which involved start-up projects or companies. Headquartered near Seattle, DFL Space focuses on engineering innovative business strategies for a diverse set of clients, from small businesses to academic institutions.
The Maui Economic Development Board (MEDB)'s mission is to provide leadership and vision for the responsible design and development of a strong, sustainable, and diversified economy for Maui County, Hawaii. Together with an extensive network of partners, MEDB has initiated projects and programs that balance the need for economic stability with respect for cultural and environmental traditions.
SM&A was originally established more than 27 years ago in the aerospace and defense industry as the partner for must-win procurements The company now serves multiple vertical markets with proposal and project management consulting services. SM&A specializes in portfolio business strategy, competition management, and program services.
SpaceGroundAnalgam, LLC works with global leaders from the public and private sector to develop strategies and long-term vision for advanced technology and business solutions focused on meeting the needs of next-generation government missions and commercial space capabilities.
This article is part of Space Watch: April 2010 (Volume: 9, Issue: 4).
---
Posted in Report from Headquarters