Report from Headquarters
---
New Product from Space Certification Partner
Written by: developer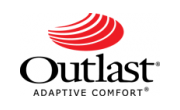 Through its Space Certification and Space Technology Hall of Fame® programs, the Space Foundation recognizes space-based technologies and innovations that have been adapted to improve life on Earth.
Outlast Technologies, a Space Foundation Certified Partner and the leader in temperature- regulating technology, announces Wigwam has extended its range of Outlast temperature-regulating socks to include a new women's Comfort Sleeper sleep sock. The Wigwam Comfort Sleeper incorporates Outlast viscose fiber to balance foot temperature under the covers to keep feet not too hot, not too cold.
Socks with Outlast technology interact with the microclimate next to feet to buffer changes in temperature and humidity. Unlike fabric and insulation that trap heat, Outlast products continually absorb excess body heat and release it to maintain constant body temperature. This is particularly important in the sleep environment where temperature plays a key role in achieving a good night's sleep. Outlast technology continually recycles body heat to maintain the optimum temperature range for a deeper and more restful sleep.
The Wigwam Comfort Sleeper sleep sock will be available in July 2010; suggested retail price is $16.00. For more information see wigwam.com.
This article is part of Space Watch: April 2010 (Volume: 9, Issue: 4).
---
Posted in Report from Headquarters