Spotlight
---
Panel: Paradigm Shift to Commercial
Written by: developer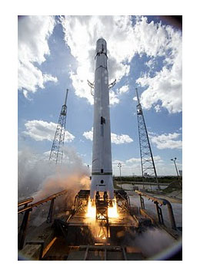 The 26th National Space Symposium will explore perspectives and stimulate discussion on how the combination of the steady maturation of the commercial industry, severely constrained federal budgets, and growing government dependence on outside services may point to a major shift in how the U.S. acquires critical space capabilities and services.
Among the topics the Solutions to Government Needs – A Paradigm Shift? panel will discuss are: the intelligence community's use of commercial imagery data; NASA's decision to use commercial firms for cargo resupply (and potentially human transport); the Department of Defense's use of commercial communications; and the expanding availability and use of foreign space alternatives. The panel is part of the Space Foundation's 26th National Space Symposium this April 12-15 at The Broadmoor Hotel in Colorado Springs, Colo.
"Constrained federal budgets, a rash of delays in acquisition programs, the rapid pace of technological change, new entrepreneurial endeavors, and the natural progression from government to private technology management have all given greater impetus to commercial solutions to critical government needs," said Space Foundation Chief Executive Officer Elliot Pulham. "Still, the changes that are now afoot are at the same time exciting and controversial."
The Solutions to Government Needs – A Paradigm Shift? panel will be moderated by Josh Hartman from the Center for Strategic and International Studies. The panelists include:
• Air Cdre Mark Ashwell, UKRAF (Retired), DigitalGlobe
• Lt. Gen. Michael A. Hamel, USAF (Retired), Orbital Sciences Corporation
• Thomas Pickens, III, Astrotech Corporation
• Gwynne Shotwell, SpaceX
• Maj. Gen. Craig P. Weston, USAF (Retired), U.S. Space LLC
About the Speakers
Josh Hartman is senior fellow, technology and public policy for the Center for Strategic and International Studies, a bipartisan, nonprofit organization that consults with government, international institutions, the private sector, and civil society. Hartman focuses on strategy and programs covering missile defense, cyberspace, intelligence, and space, including new market creation and innovation theory. Previously, he was senior adviser to the under secretary of defense for acquisition, technology, and logistics and director of the Space and Intelligence Capabilities Office. As a U.S. Air Force officer, Hartman's assignments included the Space and Missiles Systems Center, National Reconnaissance Office, Joint Chiefs of Staff, Office of the Secretary of Defense, and Naval Research Laboratory. He served as a staff member for the House Armed Services Committee and the House Appropriations Committee and served as staff director of the Select Intelligence Appropriations Panel.
Air Cdre Mark Ashwell, UKRAF (Retired), is vice president international business development for DigitalGlobe, a leading global provider of commercial high-resolution world imagery products and services that support a wide variety of functions, including mapping, analysis, and navigation. Based in the United Kingdom, Ashwell previously served as the director of intelligence capability strategy and policy within the Ministry of Defence. During his Royal Air Force career, he commanded several major Air Defence units. He also established the first collaborative multi-intelligence cross-agency joint narcotics analysis centre focusing on Afghanistan.
Lt. Gen. Michael A. Hamel, USAF (Retired), serves as senior vice president, strategy and development for Orbital Sciences Corporation, an industry leader in small space and rocket systems, including geosynchronous Earth orbit (GEO) communications and broadcasting satellites, low Earth orbit (LEO) remote sensing and scientific research spacecraft, national security spacecraft, deep space planetary probes, light- and medium-class launch vehicles, interceptor booster vehicles, and target rockets for missile defense systems testing. Hamel's military career included assignments as commander of the Space and Missile Systems Center, Air Force Space Command (AFSPC), and commander of the 14th Air Force "Flying Tigers." He has served in senior staff positions at Headquarters United States Air Force and AFSPC and as the vice president's military adviser on defense, nonproliferation, and space policy.
Thomas Pickens, III, is chairman and chief executive officer and a member of the board of directors of Astrotech Corporation, formerly SPACEHAB, Inc., a leading commercial space business that prepares and sends satellites, cargo and science into space. Astrotech's services include: satellite and spacecraft pre-launch processing, payload processing and integration, space hardware design and manufacturing, third-party space access acquisition and integration, microgravity commercial drug development, space technology product commercialization for Earth applications, and government services. Pickens is also the managing partner and founder of Tactic Advisors, Inc., and is a director for both Trenwick America Corporation and Advocate MD. Previously, Pickens served as the founder and president of Beta Computer Systems; managing partner, Grace Pickens Acquisition Partners, L.P.; managing partner, Sumter Partners L.P.; chairman and chief executive officer, Catalyst Energy Corporation; and chairman, United Thermal Corporation.
Gwynne Shotwell is president of Space Exploration Technologies (SpaceX), a private provider of launch vehicles and spacecraft for manned and unmanned space transportation. SpaceX's Falcon 1 and Falcon 9 vehicles offer launch capabilities for spacecraft insertion into any orbital altitude and inclination. Its Dragon spacecraft provides Earth-to-LEO transport of pressurized and unpressurized cargo, including resupply to the International Space Station. Shotwell, who previously served as SpaceX's vice president of business development, has developed curricula and taught courses in systems engineering and has authored papers on topics including standardizing spacecraft/payload interfaces, space shuttle integration, and reentry vehicle operational risks.
Maj. Gen. Craig P. Weston, USAF (Retired), is president and chief executive officer of U.S. Space, LLC, which offers commercial, privately financed military satellite communications to the U.S. government, including the Department of Defense. Previously, Weston was a vice president and deputy director of a business unit with SRA International. While in the Air Force, he spent a large part of his career developing, launching, and operating communications, infrared warning and reconnaissance satellites.
About the 26th National Space Symposium
The 26th National Space Symposium offers workshops, forums, panels, and presentations covering all aspects of space. This includes the Congressional Luncheon; Corporate Partnership Dinner; the General James E. Hill Lifetime Space Achievement Award Luncheon; the Space Technology Hall of Fame® Dinner; and the new Cyber 1.0. The Symposium also includes engaging programs for selected teachers and students; the extensive AMERICOM Government Services (AGS) Exhibit Center; and greatly expanded programs for young, up-and-coming "new generation" space professionals.
The National Space Symposium's top allure to attendees, exhibitors, sponsors, and speakers is as a venue for networking and conducting meaningful business. Online registration and more information, including agenda, speakers, and exhibitors, are available at www.NationalSpaceSymposium.org.
This article is part of Space Watch: April 2010 (Volume: 9, Issue: 4).
---
Posted in Spotlight