Spotlight
---
Air Force Space Command – On The Edge
Written by: developer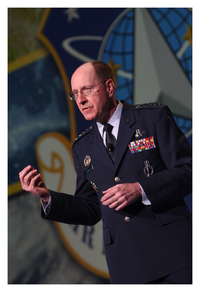 Gen. C. Robert Kehler, USAF, commander, Air Force Space Command, gave his "straight from headquarters" view at the 26th National Space Symposium, saying that his job is to think about what happens next..
"We know what we'll look like in 2030; we'll get to space then through EELV and growth of commercial," he said. "But, but the question is: what next?"
Kehler briefly reviewed current status:
AFSPC's number one success is the contribution to the joint team
Without space, the military would not fight the way we fight today
Space is now woven through the fabric of the joint warfighting network, contributing in a real-time way
GPS has gone beyond the 24-satellite constellation
Satellite communications help soldiers
SSA activity is intended to go from having a catalogue to having a real-time understanding of what's in orbit
New capabilities planned: the first of the truly operationally responsive payloads should be ready to fly later this year; about to launch first AEHF satellites; taking steps in the direction of GPS-III; going towards first of SIBRS satellites
"Need to recognize that we have had a great deal of success," said Kehler, "because of the team — government, military, contractor, commercial."
He said that space contributes across the spectrum, creating a need to understand and adapt to demands of asymmetric warfare. He also said, "for far too long, we have not taken the industrial base into account in the decisions we've made."
Speaking about strategy, Kehler said, "One size does not fit all; there is no one strategy here; we need to understand requirements in each mission area, come up with different strategic ingredients, and a strategic recipe for each mission."
Noting how things have changed, Kehler outlined the Then/Now scenario:
Then: few players, Now: congested, contested
Then: cost overruns, Now: constrained resources
Then: schedule delays, Now: ponderous process for acquisition
Then: high risk advances, Now: block build in areas where it works
Then: broad base, Now: fragile industry
Then: go it alone, Now: opportune arrangements, with military, allies, commercial
"We are on the edge of our ability to continue our string of success," said Kehler, laying out the direction ahead:
Awareness, Protection – Combination of space and cyberspace awareness; mission protection, not platform protection
Pragmatic Incentives – Competition shouldn't be the only incentive, incentives must be aligned correctly
Speed of Need – Getting capabilities we need when we need them, not 10 years from now
Innovation
Focused Enterprise – A better way to maintain a sustainable industry base
Leveraged Partnerships
Kehler said he saw AFSPC's vision as being "the leading source of emerging and integrated space and cyberspace capabilities."
He concluded by saying, "We don't have all the answers, but we have conditions and approaches.
"At the end of the day, we must get this one right."
 
This article is part of Space Watch: May 2010 (Volume: 9, Issue: 5).
---
Posted in Spotlight