Report from Headquarters
---
Nimoy Media Briefing on YouTube
Written by: developer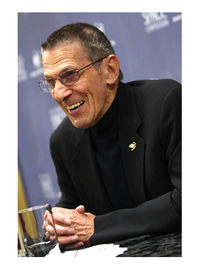 In addition to his appearance as the featured speaker at the Space Foundation's Space Technology Hall of Fame® Dinner, actor Leonard Nimoy spoke with reporters at a media briefing during the 26th National Space Symposium.
During the session, he chronicled his career, gave his views on President Obama's proposed NASA budget and the planned retirement of the Space Shuttle, talked about the positive impact space has had on his life, and discussed his future role as "lake watcher" as he moves into retirement where he does "as little as possible."
To view portions of the session on YouTube:

To view his speech at the Space Technology Hall of Fame® Dinner and his acceptance of the Douglas S. Morrow Public Outreach Award, click here.
This article is part of Space Watch: May 2010 (Volume: 9, Issue: 5).
---
Posted in Report from Headquarters