Spotlight
---
Opening Ceremony Launches Symposium with Style
Written by: developer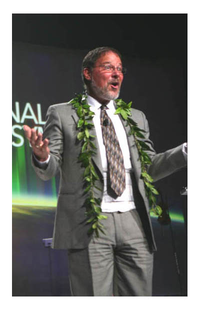 The April 12 Opening Ceremony for the 26th National Space Symposium was a celebration of the factors that make space an exciting and challenging industry. During the event, three of five prestigious awards conferred at the Symposium were presented to honor education, exploration, and innovation:
Allen V. Robnett, a science teacher at Gallatin High School in Gallatin, Tenn., was recognized as the 2010 recipient of the Alan Shepard Technology in Education Award, which is given each year by the Astronauts Memorial Foundation (AMF), NASA, and the Space Foundation in recognition of outstanding contributions to technology education by K-12 educators or district-level education personnel. Robnett was selected for his work developing two innovative high-school-level courses that use compelling subjects and hands-on experiences to motivate students to build their science, math, and technology skills. For more, click here.
The Lunar CRater Observation and Sensing Satellite (LCROSS) Mission Team was honored as the 2010 recipient of the Space Foundation's John L. "Jack" Swigert, Jr., Award for Space Exploration. Managed and operated by NASA Ames Research Center working in conjunction with spacecraft and integration partner Northrop Grumman and launch partner United Launch Alliance, LCROSS confirmed the presence of water ice on the Moon, employing the unusual technique of crashing a spacecraft into the Moon in order to observe and analyze the resulting debris plume created by the impact. For more, click here.
The Hubble Space Telescope Repair Mission Team, was honored with the 2010 Space Achievement Award, for its extraordinary in-space repairs of the Hubble Space Telescope. The Team was a cooperative effort of NASA Goddard Space Flight Center, the STS-125 crew, Ball Aerospace & Technologies Corp., ATK, Lockheed Martin, and the Space Telescope Science Institute. The 11-day repair mission included five grueling spacewalks, totaling 37 hours, in which the astronaut-mechanics, wearing bulky gloves and spacesuits, completed exceptionally complex repairs. The result is advanced technology that improves the telescope's discovery power by up to 70 times beyond what was available when the Hubble Space Telescope was originally put in orbit and an extended operational lifespan until at least 2014. For more, click here.
Hosted by Space Foundation CEO Elliot Pulham, the Opening Ceremony featured Barrage, a Canada-based music ensemble that features an international, multi-talented cast performing an eclectic mix of music, song and dance that represents a diverse fusion of cultures and musical styles.
The Opening Ceremony was sponsored by Northrop Grumman. The corporate host was David DiCarlo, Ph.D., vice president and general manager, Space Systems Division, Northrop Grumman. To read his remarks, click here.
The Opening Ceremony was followed by a reception in the SES WORLD SKIES, USG Exhibit Center, sponsored by SpaceX, and late-night fireworks and a dessert reception sponsored by Orbital Sciences Corporation.
Two other awards were presented at the 26th National Space Symposium. To read about the General James E. Hill Lifetime Space Achievement Award, which was given to legendary astronaut Capt. John W. Young, USN (Retired), click here, and to read about the Douglas S. Morrow Public Outreach Award, which was given to actor Leonard Nimoy, click here.
Pictured: Space Foundation CEO Elliot Pulham greets the Opening Ceremony audience.
This article is part of Space Watch: May 2010 (Volume: 9, Issue: 5).
---
Posted in Spotlight