Spotlight
---
Panel Explains Why We Fly
Written by: developer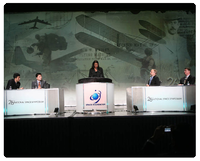 The last panel discussion of this year's 26th National Space Symposium featured three seasoned space travelers discussing Why We Fly - Common Experience, Uncommon Perspectives.
Moderated by Jeannie Kranz, director of strategic relations for the Office of Government Relations of Jacobs Technology and daughter of famed former NASA flight controller Gene Kranz, the panel featured the first Chinese astronat, Yáng Lìwěi; private space explorer Richard Garriott, and AVIATION WEEK president and former Space Shuttle astronaut Tom Henricks.
Yáng spoke about about why he chose space, citing stories from Chinese history that inspired him. "When I was young these stories let me know what flying is," he began, adding that he grew up near an Air Force base. "I saw the airplanes every day on my way to school ... When the opportunity came, I applied to be an Air Force pilot.
"When I was a pilot, I knew other countries were involved in spaceflight," Yáng continued, "and I knew it was for the benefit of all mankind. This inspired my desire to engage in spaceflight."
Garriot, who is the son of NASA astronaut Owen Garriott, spoke about his experiences traveling aboard the Russian Soyuz TMA-13 spacecraft to the International Space Station. He was the sixth private citizen to fly in Earth's orbit and the first second-generation American in space. "Traveling in space was a life-changing event. We should try to allow more people to see it," he said. "Seeing the Earth from space really drives home the importance of being an environmentalist. You see the scale of the Earth. The world becomes very small, our atmosphere is small."
Garriot also spoke about the importance of building a capable, proficient U.S. space workforce. "STEM education is paramount to the future of the U.S.," said Garriott. "We need funding going not just to teachers, but to all areas of education ... We need to arm teachers with the tools they need. Within a decade, I believe that everyone who has a great idea for a business in space will be able to reach space through private industry."
Henricks said that he became an astronaut for the challenge. "I didn't consider joining the astronaut corps until I was a fighter pilot. I saw it as a professional challenge," said Henricks, who also commented on the need for international collaboration.
"I don't think any effort in space in the future will be done by one nation. I was one of the people on the (Space Foundation) delegation visiting China last year, seeing how open and willing to cooperate they are," he said. "The Chinese have (compared to NASA) almost unlimited resources, but they don't have the 50 years of experience that we have. This represents an opportunity ... to leverage our resources."
Said Yáng, "Earth is the cradle of humanity, and we can't stay in the cradle. Exploration into space is the responsibility of every nation."
Pictured: Jeannie Kranz moderates the panel "Why We Fly - Common Experience, Uncommon Perspectives." Photo by Tom Kimmell.
This article is part of Space Watch: June 2010 (Volume: 9, Issue: 6).
---
Posted in Spotlight