Spotlight
---
Japanese Mission Comes Home
Written by: developer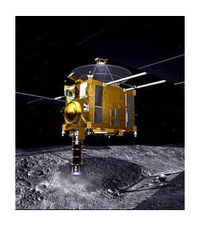 After a three-year re-entry delay, the Japan Aerospace Exploration Agency (JAXA) Hayabusa mission has returned to Earth and, in spite of numerous problems, is being lauded as a great success. 
The Hayabusa mission launched in 2003 to gather samples from the asteroid Itokawa. The spaceship reached the asteroid more than two years later, after traveling 1.25 billion miles. However a series of technical problems endangered the mission. Plans to gather rock flakes failed and multiple malfunctions resulted in an eventual  communications blackout. 
Over the next 18 months, JAXA worked diligently to regain control of the mission and bring the spaceship back home. According to the Washington Post, "… the voyage was justifiably and immediately hailed as the stuff of legend. Against all odds, the Japanese space agency, with support from NASA, managed not only to bring Hayabusa back to Earth but also to do something never done before: take a sample from the surface of a distant asteroid and bring it home for study."
After a safe landing in the Australian outback in June, the sample container is back in Japan now, where it will be examined to determine if any asteroid dust was collected.
Hayabusa was one of the "suite" of JAXA missions honored with the Space Foundation's  John L. "Jack" Swigert, Jr., Award for Space Exploration at the 24th National Space Symposium in 2008.
Read more about the Hayabusa mission in The Washington Post here.
 
This article is part of Space Watch: July 2010 (Volume: 9, Issue: 7).
---
Posted in Spotlight