Spotlight
---
Pulham Attends AIAA SPACE Conference
Written by: developer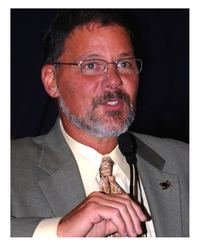 Elliot Pulham, Space Foundation CEO, moderated a panel discussion on Aug. 31 at the AIAA SPACE 2010 Conference & Exposition, held Aug. 30 – Sept. 2, at the Anaheim (Calif.) Convention Center.
Panelists explored the theme, "Space – Imagine, Innovate, Collaborate," in relation to their personal experiences and that of their company or organization. In addition to Pulham, the panelists included: 
Dr. Charles Elachi, director of the NASA Jet Propulsion Laboratory 
Lt. Gen. John T. Sheridan, commander, Space and Missile Systems Center, Air Force Space Command, Los Angeles Air Force Base 
Roger Krone, president of Network and Space Systems for The Boeing Company
Joanne Maguire, executive vice president of Lockheed Martin Space Systems Company
 Pictured: File photo of Elliot Pulham, Space Foundation CEO
 
This article is part of Space Watch: September 2010 (Volume: 9, Issue: 9).
---
Posted in Spotlight