Spotlight
---
Space Helps Coloradans Find Beer
Written by: developer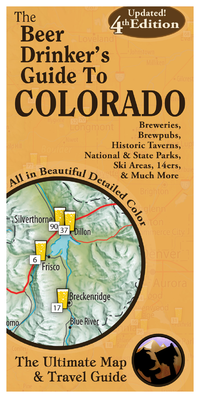 The Colorado Springs-based Space Foundation has recognized the updated and revised 4th Edition Beer Drinker's Guide to Colorado as a certified Space Imagination Product. The map integrates enhanced GPS-enabled measurements into the locations and chart data of fourteener* elevations and incorporates new Shuttle Radar Topography Mission (SRTM) digital elevation model data into the relief map.
The Space Foundation's Space Certification program promotes the practical, life-enhancing benefits of space technology here on Earth.
Released last month, the 4th Edition Beer Drinker's Guide to Colorado is a large (27″ x 39″) beautifully printed full-color topo-physical map that "pint-points" the locations of 126 Colorado brewing operations, from bucket brewers to megabrewers spread all across the state. It includes information about beer, including beer styles and tastes, glassware, beer making, lists of historic and notable saloons, bars for beer geeks, homebrewing shops, and detailed facts on every Colorado brewing operation. Colorado travel information includes details on state and national parks, driving distances, local taxi and bus contacts, ski areas, fourteeners, and much more.
Free Beer
Every Beer Drinker's Guide to Colorado comes packaged with the Passport to Free Beer, a book with more than $150 in coupons for free beer, glassware and great deals at breweries, brewpubs and retailers all over the state. Coupon partners include: Aspen Brewing, Beer at Home, Bierworks, Bristol Brewing, Bull & Bush Pub & Brewery, Colorado Mountain Brewery, Crested Butte Brewery, Dry Dock Brewing, Durango Brewing, Eddyline Restaurant & Brewery, Elk Mountain Brewing, Front Range BBQ, Grand Lake Brewing, High Country Home & Garden, McClellan's Grill & Brewing, Odell Brewing Company, Pagosa Pub Works Brewpub, Phantom Canyon Brewing, Rocky Mountain Brewing, San Luis Valley Brewing, Shamrock Brewing, Silverton Brewery, Ska Brewing, Smuggler's Brewpub and Grill, Strange Brewing, Three Barrel Brewing, Trinity Brewing and Twisted Pine Brewing Company.
Published by Motion Pixel Lab, Inc., a full-service video and multimedia production group in Colorado Springs, the map is available folded for convenient deployment in a glovebox, rolled for wall display, or laminated. The map can be purchased at more than 130 retail partners including bookstores, liquor stores, restaurants, brewers, and homebrew suppliers or online at www.beerdrinkersguidetocolorado.com/. Suggested retail price is $14.95. For additional information on the map, contact Carol White or Mike Laur via telephone at 719-636-3565 or e-mail [email protected].
About Space Certification
The Space Foundation's Space Certification program recognizes products originally developed for space that have been improved by space utilization or are used to increase awareness or understanding of space. There are three classifications of Space Foundation Certified Products:
Certified Technology Products – Products or services that directly results from space technology or space program development such that the product exists because of advances in space technology; click here.
Certified Educational Products – Products used in educational environments to stimulate interest and knowledge about Space; click here. 
Certified Imagination Products – Toys or entertainment products used to increase interest in and excitement for space; click here.
* In mountaineering terminology, a "fourteener" is a mountain exceeds 14,000 feet (4,267.2 m) in elevation above mean sea level and has a prominence of at least 300 feet; there are approximately 88 fourteeners in the United States, of which 54 are in Colorado.
This article is part of Space Watch: September 2010 (Volume: 9, Issue: 9).
---
Posted in Spotlight