Spotlight
---
The Space Shuttle Program Lives On YouTube
Written by: developer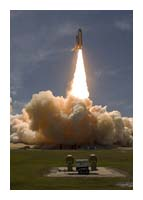 Relive history and highlights of the U.S. Space Shuttle program on YouTube. Here are some suggestions:
Enterprise – landing test
Columbia – pre-dawn launch
Challenger – ABC news coverage January 28, 1986
Endeavour – STS-130 pre-dawn launch
Discovery – STS-131 launch
Atlantis – Blast into Space, Spectacular Fall to Earth
Pictured: Space Shuttle Atlantis soars toward orbit from Florida's Space Coast, beginning the STS-132 mission to the International Space Station. The spacecraft took off from NASA Kennedy Space Center's Launch Pad 39A at 2:20 p.m. EDT on May 14, 2010. STS-132 was the 132nd shuttle flight, the 32nd for Atlantis and the 34th shuttle mission dedicated to station assembly and maintenance. Photo courtesy of NASA.

This article is part of Space Watch: September 2010 (Volume: 9, Issue: 9).
---
Posted in Spotlight