Spotlight
---
Space Foundation Presents Paper in Prague
Written by: developer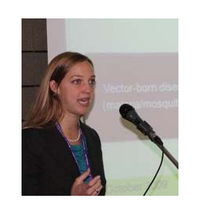 Space Foundation Research Analyst Mariel John presented a paper at the 61st International Astronautical Congress in Prague, Czech Republic, in September. Her paper, Solutions from Space: Disease and Pandemic Early Warning, details how space technology has the potential to predict outbreaks of preventable diseases such as malaria and cholera.
According to the paper, early warnings can help decision makers distribute preventive medicine and other forms of aid to save lives. Although remote sensing satellites cannot directly detect disease outbreaks, they are able to detect a wide range of environmental factors, such as ground water, vegetation or flooding, that contribute to the spread of diseases.
John also gave a presentation on the global space economy findings from the Space Foundation publication The Space Report 2010: The Authoritative Guide to Global Space Activity, which may be ordered online here.
To read Solutions from Space: Disease and Pandemic Early Warning or to download a copy, go to www.SpaceFoundation.org/research.
Johns and Space Foundation Senior Vice President – Strategic and International Affairs Steve Eisenhart participated in a broad range of actvities and meetings at the conference.
Pictured: Mariel John
This article is part of Space Watch: October 2010 (Volume: 9, Issue: 10).
---
Posted in Spotlight