Spotlight
---
New Orbital and Suborbital Research Opportunities
Written by: developer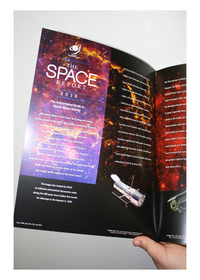 As NASA and its partners complete the assembly of the International Space Station (ISS), the facility and its expanded six-person crews are now able to devote more time to new research. Despite the limitations on crew size and facilities during the assembly phase of the station, NASA performed more than 100 experiments there during the station's first eight years, ranging from life sciences research to materials science experiments.
In the next several years, crews will carry out a wider range of experiments aboard the ISS. Since a 2005 law designated the U.S. portion of the ISS as a national laboratory, NASA has signed agreements with a number of government agencies and private organizations to allow them to use the station's facilities. For example, NASA has signed memoranda of understanding with the Department of Agriculture and the National Institutes of Health (NIH) for cooperation on space-related research that could be performed on the station. NIH, in turn, issued a solicitation for proposals in 2009 for biomedical research that can be performed on the ISS and funded by NIH. That research opportunity remains open through 2012.
Companies are making use of the ISS as well, expanding the variety of research performed there. Astrogenetix, based in Austin, Texas, is continuing use of the ISS for biotechnology experiments, particularly in the area of vaccine development. The company has a Space Act Agreement with NASA to perform research on the ISS, and past work on salmonella has advanced a potential vaccine to pre-clinical trials. Another company, NanoRacks, is developing an experiment rack based on the CubeSat satellite design intended to host small, low-cost experiments on the ISS. The company signed a Space Act Agreement with NASA in September 2009 and launched its first rack and experiments on the STS-131 Shuttle mission in April 2010.
A key to future utilization of the ISS will be access to the station once the Space Shuttle is retired. Two U.S. companies, Orbital Sciences and SpaceX, are developing vehicles to deliver cargo to the ISS under contracts with NASA. SpaceX conducted a demonstration flight from Cape Canaveral in December 2010 using its Dragon spacecraft and Falcon 9 launch vehicle, becoming the first commercial company to successfully recover a spacecraft from Earth orbit. Orbital Sciences is working on its Cygnus spacecraft and Taurus II launch vehicle, with a test launch planned for December 2011. Orbital Sciences will perform that launch and future ISS cargo missions from a new launch facility at the Mid-Atlantic Regional Spaceport at Wallops Island, Virginia. Orbital Sciences' use of this facility means U.S. supply missions to the ISS can be launched from at least two separate launch sites.
SpaceX is also proposing to use Dragon for research applications independent of the ISS. In 2008, SpaceX announced plans for DragonLab, a free-flying version of its spacecraft designed to carry a variety of experiments that can be returned to Earth. The company has booked two DragonLab flights on its launch manifest, in 2012 and 2013.
The research that will be conducted aboard both government-owned platforms such as the ISS and commercial platforms such as DragonLab has the potential to yield a wide variety of useful results. As is the case with vaccine research, much of the knowledge gained can be applied to everyday situations on Earth. Other lessons learned will enable deeper exploration of space and help us to understand more about the universe and our place in it.
This – and much more – information about the benefits of space activity can be found in The Space Report 2010: The Authoritative Guide to Global Space Activity. To order a copy in book, PDF, or CD-ROM format, go to www.TheSpaceReport.org.
 
This article is part of Space Watch: February 2011 (Volume: 10, Issue: 2).
---
Posted in Spotlight