Space Foundation Press Releases
---
Space Foundation Names SpaceX and Télécoms Sans Frontières as Recipients of 2011 Space Achievement Awards
Written by: developer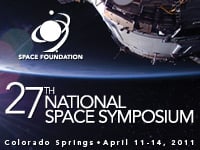 COLORADO SPRINGS, Colo. (Feb. 16, 2011) — The Space Foundation has chosen two companies to receive 2011 Space Achievement Awards, in recognition of their extraordinary accomplishments in space.
SpaceX is being lauded for becoming the first commercial company to re-enter a spacecraft from low-Earth orbit, and Télécoms Sans Frontières (TSF) is being recognized for its unique use of space to aid communications and save lives during natural disasters and emergencies.
The awards will be presented to both organizations during the Opening Ceremony of the 27th National Space Symposium on April 11 at The Broadmoor Hotel in Colorado Springs, Colo.
On Dec. 8, 2010, SpaceX's Dragon spacecraft was launched from the Cape Canaveral Air Force Station, Fla., into low-Earth orbit atop a Falcon 9 rocket. It orbited the Earth at speeds greater than 17,000 miles per hour, reentered the Earth's atmosphere and landed in the Pacific Ocean that afternoon. The only other entities to successfully recover spacecraft reentering from low-Earth orbit have been nations or government agencies: China, the European Space Agency, India, Japan, Russia and the U.S.
"SpaceX's successful launch and re-entry signals a new era in space transportation," said Space Foundation Chief Executive Office Elliot Pulham. "The Space Foundation has long predicted that commercial space flight would take off; it is certainly exciting to watch SpaceX as it boldly redefines the space marketplace."
Since its creation in 1998, Télécoms Sans Frontières (TSF) has developed a reputation for being among the first to arrive on the scene after a disaster, and has intervened in more than 60 countries, serving hundreds of thousands of victims and 600 organizations (UN agencies, NGOs and local authorities). TSF's primary tools are light, highly portable satellite terminals (BGAN and VSAT) that are deployable within minutes, providing worldwide coverage.
"Télécoms Sans Frontières' use of space is an extraordinary example of the concrete, positive impact space has on our lives on Earth," said Pulham. "There's nothing theoretical here — this organization saves lives and makes the world a better place because of space technology."
About SpaceX
SpaceX is developing a family of launch vehicles and spacecraft that is increasing the reliability and performance of space transportation, while ultimately reducing costs by a factor of ten. With the Falcon family of rockets, SpaceX has a diverse manifest of over 40 launches to deliver commercial satellites to orbit. After the Space Shuttle retires, the Falcon 9 and SpaceX's Dragon spacecraft will start carrying cargo, including live plants and animals, to and from the International Space Station for NASA. Falcon 9 and Dragon were developed to one day carry astronauts.
Founded in 2002, SpaceX is a private company owned by management and employees, with minority investments from Founders Fund, Draper Fisher Jurvetson, and Valor Equity Partners. The company has over 1,200 employees in California, Texas and Florida. For more information, and to watch the video of the Falcon 9 and Dragon launches, visit the SpaceX website at www.SpaceX.com.
About Télécoms Sans Frontières (TSF)
This leading humanitarian non-governmental organization (NGO) specializes in emergency telecommunications. With its 24-hour monitoring center, and relying on its operational bases in France, Nicaragua and Thailand, TSF crews of IT and telecommunications specialists can intervene anywhere in the world in less than 24 hours after any sudden disaster or conflict. In a matter of minutes after arrival, teams set up a satellite-based telecommunications center offering broadband Internet, phone and fax lines. These centers enable emergency NGOs, the United Nations and local authorities to communicate right at the heart of event. TSF also runs humanitarian calling operation to offer support and assistance to affected civilians, giving them a link with the outside world. Learn more about Télécoms Sans Frontières at www.tsfi.org/.
About the Award
The Space Foundation annually presents The Space Achievement Award to an individual or organization for significant contributions in advancing the exploration, development or utilization of space. Previous recipients include: the Hubble Space Telescope Repair Mission team; China's Shenzhou 7 Manned Space Flight Team; the United States Air Force; Bigelow Aerospace; the U.S. Titan Launch Vehicle Team; the Inertial Upper Stage Team; the SpaceShipOne Team; the Ariane 4 Launch Team; the Evolved Expendable Launch Vehicle Teams; the NASA/Industry Galileo Space Probe Team; the men and women of United States Space Command and its component organizations; the Hubble Space Telescope Team; Sea Launch; NASA-Boeing International Space Station Team; Gen. Thomas S. Moorman, Jr., USAF (Retired); Capt. James A Lovell, Jr., USN (Retired); the American Astronautical Society; and Air University.
About the 27th National Space Symposium
The annual Space Foundation National Space Symposium brings together all sectors of space to highlight accomplishments and address opportunities and issues facing the global space community today. The Space Achievement Award is one of several honors to be presented during the Symposium. Others include:
General James E. Hill Lifetime Space Achievement Award
Alan Shepard Technology in Education Award
Douglas S. Morrow Public Outreach Award
Space Technology Hall of Fame
Register Now
Online registration and more information, including agenda, speakers and exhibitors, are available at www.NationalSpaceSymposium.org.
27th National Space Symposium Co-Sponsors
Confirmed co-sponsors of the 27th National Space Symposium include a.i. solutions; Analytical Graphics, Inc. (AGI); ARES Corporation; ATK; Ball Aerospace & Technologies Corp.; The Boeing Company; Booz Allen Hamilton; Cisco Systems, Inc.; Euroconsult; Fisher Space Pen Co.; GMV; General Dynamics; IBM; ILA Berlin Air Show; Integral Systems; Intelsat General Corporation; International Academy of Astronautics (IAA); International Space University (ISU); Lockheed Martin; Maui Economic Development Board (MEDB); Moog; Northrop Grumman; Paradigm; Pratt & Whitney Rocketdyne; QinetiQ; Raytheon; SAIC; SES World Skies; Space Generation Advisory Council (SGAC) ; SpaceSystems/Loral; SpaceX; Stellar Solutions; Swedish Space Corporation (SSC); United Launch Alliance; and United Space Alliance. Space News International and Aviation Week are official media partners. Additional sponsorship opportunities are available; interested companies should contact [email protected].
About the Space Foundation
The Space Foundation is a global, nonprofit organization and the foremost advocate for all sectors of the space industry – civil, commercial, military and intelligence. Founded in 1983, the Space Foundation is a leader in space awareness activities, educational programs that bring space into the classroom, and major industry events, including the National Space Symposium, all in support of its mission "to advance space-related endeavors to inspire, enable and propel humanity." An expert in all aspects of the global space industry, the Space Foundation publishes The Space Report: The Authoritative Guide to Global Space Activity and provides three indices that track daily performance of the space industry. Through its Space Certification and Space Technology Hall of Fame® programs, the Space Foundation recognizes space-based technologies and innovations that have been adapted to improve life on Earth. Headquartered in Colorado Springs, the Space Foundation conducts research and analysis and government affairs activities from its Washington, D.C., office and has field representatives in Houston, Texas, and Cape Canaveral, Fla. For more information, visit www.SpaceFoundation.org. Follow us on Twitter, Facebook and LinkedIn, and read about the latest space news and Space Foundation activities in Space Watch.
# # #
---
Posted in Space Foundation Press Releases