Spotlight
---
Space Achievement Awards for Two Companies
Written by: developer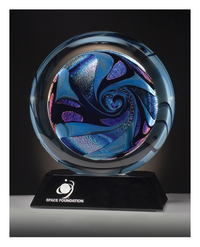 The Space Foundation has chosen two companies to receive 2011 Space Achievement Awards, in recognition of their extraordinary accomplishments in space.
SpaceX is being lauded for becoming the first commercial company to re-enter a spacecraft from low-Earth orbit, and Télécoms Sans Frontières (TSF) is being recognized for its unique use of space to aid communications and save lives during natural disasters and emergencies.
The awards will be presented to both organizations during the Opening Ceremony of the 27th National Space Symposium on April 11 at The Broadmoor Hotel in Colorado Springs, Colo.
On Dec. 8, 2010, SpaceX's Dragon spacecraft was launched from the Cape Canaveral Air Force Station, Fla., into low-Earth orbit atop a Falcon 9 rocket. It orbited the Earth at speeds greater than 17,000 miles per hour, reentered the Earth's atmosphere and landed in the Pacific Ocean that afternoon. The only other entities to successfully recover spacecraft reentering from low-Earth orbit have been nations or government agencies: China, the European Space Agency, India, Japan, Russia and the U.S.
Since its creation in 1998, Télécoms Sans Frontières (TSF) has developed a reputation for being among the first to arrive on the scene after a disaster, and has intervened in more than 60 countries, serving hundreds of thousands of victims and 600 organizations (UN agencies, NGOs and local authorities). TSF's primary tools are light, highly portable satellite terminals (BGAN and VSAT) that are deployable within minutes, providing worldwide coverage.
About SpaceX
SpaceX is developing a family of launch vehicles and spacecraft that is increasing the reliability and performance of space transportation, while ultimately reducing costs by a factor of ten. With the Falcon family of rockets, SpaceX has a diverse manifest of over 40 launches to deliver commercial satellites to orbit. After the Space Shuttle retires, the Falcon 9 and SpaceX's Dragon spacecraft will start carrying cargo, including live plants and animals, to and from the International Space Station for NASA. Falcon 9 and Dragon were developed to one day carry astronauts. Founded in 2002, SpaceX is a private company owned by management and employees, with minority investments from Founders Fund, Draper Fisher Jurvetson, and Valor Equity Partners. The company has over 1,200 employees in California, Texas and Florida. For more information, and to watch the video of the Falcon 9 and Dragon launches, visit the SpaceX website at www.SpaceX.com.
About Télécoms Sans Frontières (TSF)
This leading humanitarian non-governmental organization (NGO) specializes in emergency telecommunications. With its 24-hour monitoring center, and relying on its operational bases in France, Nicaragua and Thailand, TSF crews of IT and telecommunications specialists can intervene anywhere in the world in less than 24 hours after any sudden disaster or conflict. In a matter of minutes after arrival, teams set up a satellite-based telecommunications center offering broadband Internet, phone and fax lines. These centers enable emergency NGOs, the United Nations and local authorities to communicate right at the heart of event. TSF also runs humanitarian calling operation to offer support and assistance to affected civilians, giving them a link with the outside world. Learn more about Télécoms Sans Frontières at www.tsfi.org/.
 
This article is part of Space Watch: March 2011 (Volume: 10, Issue: 3).
---
Posted in Spotlight