Spotlight
---
Symposium Panels Feature Top Leadership
Written by: developer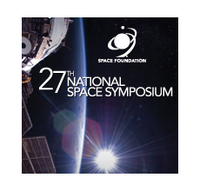 The Space Foundation's 27th National Space Symposium will be held April 11-14 at The Broadmoor Hotel in Colorado Springs, Colo., and will feature forums, presentations, speeches, special events and ample opportunity to hear from and network with the space community's most influential leaders. Some of those leaders will comprise the panel "Industrial Base Mega Session." Moderated by Space Foundation chairman, William F. Ballhaus, Jr., Ph.D., the panel includes:  
Marion C. Blakey, president and chief executive officer, Aerospace Industries Association
David M. DiCarlo, Ph.D., sector vice president and general manager, Space Systems Division, Northrop Grumman Aerospace Systems
Brett Lambert, deputy assistant Secretary of Defense for Industrial Policy Department of Defense
Joanne M. Maguire, executive vice president, Lockheed Martin Space Systems Company
James Maser, president, Pratt & Whitney Rocketdyne
Richard W. McKinney, Deputy Under Secretary of the Air Force for Space Programs, United States Air Force
This discussion is in addition to two previously announced Symposium panels. "The Government Buys Commercial" will be moderated by Paul L. Graziani, chief executive officer and founder of Analytical Graphics Inc., (AGI), and includes panel members:
Charles S. Baker, acting director, Office of Space Commercialization, U.S. Dept. of Commerce and deputy assistant administrator for Satellite and Information Services, NOAA
Lt. Gen. Michael A. Hamel, USAF (Retired) , senior vice president of corporate strategy and development, Orbital Sciences Corporation
Maj. Gen. John E. Hyten, USAF, director, Space Programs Office of the Assistant Secretary of the Air Force for Acquisition
Another Symposium panel will be, "CEOs on the Issues" moderated by Euroconsult CEO and managing director Pacôme Révillon, and including:
Matthew J. Desch, chief executive officer, Iridium Communications, Inc.
Jean-Yves Le Gall, chairman and chief executive officer, Arianespace, Inc.
David McGlade, chief executive officer, Intelsat
Andrew Sukawaty, chairman and chief executive officer, Inmarsat
Register for the 27th National Space Symposium
Take advantage of Early Bird rates by registering for the 27th National Space Symposium before March 18 at www.nationalspacesymposium.org/register.
For additional speaker background, click here.
This article is part of Space Watch: March 2011 (Volume: 10, Issue: 3).
---
Posted in Spotlight