Spotlight
---
Cartwright Says Don't Take Away Capabilities
Written by: developer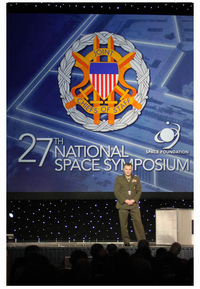 The nation's second-highest-ranking military officer believes strongly in space as a warfighter tool.
Gen. James Cartwright, USMC, vice chairman of the Joint Chiefs of Staff, said that, since 2000, no academy class has been noncombat. "We can never guess where wars will be, but we always know we'll need precision, navigation and timing."
Cartwright said that, of all space-based capabilities, communications are probably most essential; we will need to maintain and add more, adding that missile defense is tough, especially separating sensors and warheads, which stresses communications and intelligence systems.
Saying that we need to change planning and acquisition processes, Cartwright said that the competitive advantage for IEDs is 30 days and for Cyber, it's 10-14 days, compared to the 30 months for traditional business. "DoD is not that agile," he said, "Approaches can't be threat based, but, unfortunately, we buy threat-based."
Cartwright called upon business to be part of the solution and said that government must stop "engineering industry out with requirements."
Addressing affordability, he said there is no historical precedent for the country's current financial situation and that a "peace dividend" will still be far too small, by orders of magnitude, to tackle debt. As budgets have been cut and purchasing slowed, Cartwright said, "The acquisition process is deeply flawed. We have gotten to a situation where we have best thing in the world, but only one or two of them – we have lost all ability to take advantage of scale.
"Now," he continued, "We need to work on 'better' versus 'best', we need to cooperate with industry, we need numbers, we must get back to scale."
Urging that decisions about risk be left to the warfighter — "not to the bureaucrats," Cartwright said we must make sure things go first to the warfighter. "We need to realize that corporals on the ground make strategic decisions and will make mistakes; don't take away capabilities."
Stressing that it is important to understand obvious capability gaps, Cartwright said that "Low-hanging fruit is already gone, now we need national conversation about what we will not be doing.
"Today we are always fighting in a coalition, we need to adapt accordingly."
This article is part of Space Watch: June 2011 (Volume: 10, Issue: 6).
---
Posted in Spotlight