Spotlight
---
Schulte: Space is Congested, Contested, Competitive
Written by: developer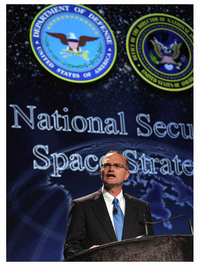 Ambassador Gregory L. Schulte, deputy assistant secretary of defense for space policy for the U.S. Department of Defense spoke about the "three Cs" of space – Congested, Contested, Competitive – when he addressed the 27th National Space Symposium in Colorado Springs this past April.
Keying in on how space is being used to support troops in the Middle East, Schulte said that space assets are critical to national security, but that the three Cs create challenges. He cited examples of each:
Congested: Recently, space debris caused alarms at the International Space Station
Contested: Libya and Iran have resumed jamming communications satellites
Competitive: the United States' satellite manufacturing marketshare is decreasing
In this environment, he said, the DoD has a new strategy, cosigned by the secretary of defense and the director of national of intelligence, aimed at strengthening safety, stability and security, as well as energizing the industrial base. He gave his thoughts on three of the many key approaches:
The objective of promoting peaceful, cooperative use of space by leading by example and increasing transparency will be supported heavily by the United States Strategic Command, which now has responsibility for sharing space data and orbital analysis with other nations.
A goal of increasing international cooperation is being advanced by evaluating the European Union's proposed international code and increasing discussions with Russia, China, India, Canada, Australia and France. "Partnering with countries is key strategic element," said Schulte, "which will allow the U.S.to take advantage of growing space capabilities of other countries. We are increasing our coalition capabilities in the space arena as our allies are increasing their capabilities." Schulte said that the military is moving from Joint Space Operations Center to a Combined Space Operations Center, which should further enhance cooperation and lead to improved space situational awareness (SSA). Another example of cooperation Schulte cited is the Wideband Global Satcom, which shares costs, while increasing capacity and reach.
The final objective Schulte discussed is developing and enhancing space deterrence. "Jamming of satellites is becoming all too routine." he said. "Jamming commercial communications can easily change to jamming defense traffic."
He laid out four steps critical to deterrence:
Establishing norms of behavior
Developing international coalitions
Increasing resiliency and ability to keep operating to reduce attack incentive
Readiness and capability to respond in self-defense, using all defense avenues, not strictly space assets
"We look at not just deterrence in space, but space in deterrence."
Schulte said that the U.S. must change its way of thinking and that broad partnership are needed at all levels to move forward. He then issued challenges to key actors:
Challenge to operators: Help us think operationally about rules of the road
Challenge to industry: Think creatively about how to leverage new commercial capabilities and increase resiliency
Challenge to allies and partners: How can we best operate in coalition and what capabilities each player can offer to coalitions
He ended by suggesting the use of existing organizations such as NATO to implement this strategy.
During the Q&A, Schulte made statements about several key challenges and opportunities:
Hosted payloads: in line with strategy objectives, including resiliency and industrial base growth
Export controls: we should allow export of technologies that are already widely available globally; should remember that fixing export controls is not only for competitiveness but industrial base security
Industrial base: international cooperation is not antithetical to industrial base strengthening; our current emphasis is on encouraging responsible use of space; EU Code does not appear to substantially restrict freedom of action, but does make good steps in promoting responsible space
Space situational awareness (SSA): a mission area ripe for international cooperation; allies have and are developing capabilities; overall, we are developing a solid notion of what we need to figure out; we need cooperation to develop creative solutions
This article is part of Space Watch: June 2011 (Volume: 10, Issue: 6).
---
Posted in Spotlight