Spotlight
---
Festival of Science Returns in August
Written by: developer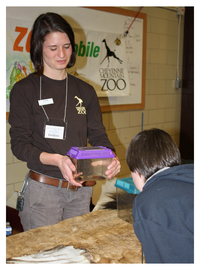 The Space Foundation's Festival of Science in Colorado Springs has been such a tremendous success that a second festival has been added this year to coincide with the Aug. 25 open house at the Jack Swigert Aerospace Academy, 4220 East Pikes Peak Avenue. The Festival, which will be held in the school's gymnasium from 6:00 to 7:30 p.m.,  is free and open to the public.
Targeted at the middle-school-level, the Festival of Science brings students and their families, teachers and community members together with local science-oriented organizations offering hands-on activities. Organizations that have already confirmed participation are:
University of Colorado at Boulder Astrobiology Club
Organizations may still apply to participate by contacting Elias Molen by August 12 at: [email protected].
Pictured: The Cheyenne Mountain Zoo exhibit from the January 2011 Space Foundation Festival of Science.
This article is part of Space Watch: August 2011 (Volume: 10, Issue: 8).
---
Posted in Spotlight