Spotlight
---
Eagle Eyes Sponsors Beautiful Eyes Contest
Written by: developer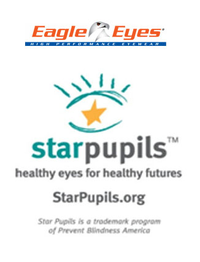 Space Certification Corporate Patron Partner and 2010 Space Technology Hall of Fame® Inductee Eagle Eyes Optics® is one of the sponsors of Prevent Blindness America's Most Beautiful Eyes Contest, which gives children across the United States the chance to become the face of the Star Pupils program in 2012 and win a $25,000 scholarship.
Parents of children up to age to 17 entered by submitting photos of their children to the Prevent Blindness America Facebook page. During September, the public is encouraged to place online votes for their choice of the child with the most beautiful eyes. The first 50 entries received a free pair of Real Kids Shades sunglasses. To vote, click here.
Each state will have one winner*, who will advance to the second round of voting. All state winners will receive a free pair of Eagle Eyes Optics® Astro and Rocketeer Sunglasses for kids plus a Kids' Fisher® Space Pen.
Celebrity judges, including legendary broadcaster Larry King, Baltimore Orioles player Derrek Lee and former astronaut Walter Cunningham will then select three finalists and the contest winner.
The three finalists and their families will travel to Chicago the weekend of Nov. 18-20 to attend the Prevent Blindness America Annual Awards Banquet, where the winner will be announced. The second prize winner will receive a $4,000 scholarship and the third place winner will receive a $2,000 scholarship.
The contest supports the Star Pupils program and is sponsored by Marchon Eyewear, Advantica Eyewear and Real Kids Shades, in addition to Eagle Eyes Optics®. For more information about the Most Beautiful Eyes contest, click here or call (800) 331-2020.
About Eagle Eyes Optics®
Producer of the only sunglass lens to receive the Lifetime Certified Space Technology™ seal from the Space Foundation, Eagle Eyes Optics® was inducted into the Space Technology Hall of Fame® in 2010 for its innovative lenses that protect human eyesight from the harmful effects of solar radiation light.
Based on research conducted at NASA's Jet Propulsion Laboratory, the lenses mimic the eyes of eagles and hawks that use unique oil droplets to selectively filter out harmful radiation and permit only specific wavelengths of light to enter, providing extremely powerful visual clarity, even at great distances. An advanced formula replicating this natural system was successfully applied to the first transparent welding curtain to filter out harmful light and protect human eyesight in hazardous environments. Eagle Eyes Optics® President Alan Mittelman was also honored by the Space Technology Hall of Fame® as an Innovating Individual. To see more details about Eagle Eyes Optics, click here.
About Space CertificationTM
The Space Foundation's unique Space CertificationTM branding program allows qualifying products and services to display the official Space CertificationTM seal and to benefit from cooperative marketing programs. There are three certification classifications: Certified Technology Products; Certified Educational Products; and Certified Imagination Products. For more information, click here.
About the Space Technology Hall of Fame®
The Space Foundation's  Space Technology Hall of Fame® honors technologies developed anywhere in the world for use in space that improve life on Earth. Inducted technologies include energy-saving technologies, life-saving medical devices, health improvement technologies, satellite and telecommunication technologies and practical commercial devices. Nominations are currently being accepted for 2012 induction. For details on the program and on submitting nominations, click here.
About Prevent Blindness America
Founded in 1908, Prevent Blindness America is the nation's leading volunteer eye health and safety organization dedicated to fighting blindness and saving sight. Focused on promoting a continuum of vision care, Prevent Blindness America touches the lives of millions of people each year through public and professional education, advocacy, certified vision screening and training, community and patient service programs and research. For more information, call 1-800-331-2020 or visit preventblindness.org or facebook.com/preventblindness.
*void where prohibited
This article is part of Space Watch: September 2011 (Volume: 10, Issue: 9).
---
Posted in Spotlight