Spotlight
---
MSC: One of "The Ten Original Software Companies"
Written by: developer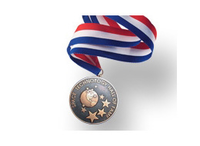 MSC Software Corporation, developer of NASA's Structural Analysis Computer Software (NASTRAN) that was among the very first Space Technology Hall of Fame® inductees, was recently recognized in an article published by MaximumPC as one of "The 10 Original Software Companies" along with mainstream software technology innovators IBM, Computer Sciences Corporation, Apple and Microsoft.
In 1965, MSC Software won the contract to develop NASTRAN, which is estimated to have returned $701 million in cost savings to the U.S. space agency from 1971 to 1984. NASTRAN was inducted into the Space Technology Hall of Fame® in 1988, the program's inaugural year.
To read the article, click here.
About NASTRAN
In the early years of the space program, it took thousands of man-hours using conventional mathematical methods to analyze and solve structural aircraft and space vehicle design problems. NASTRAN allowed designers and engineers to analyze and solve thousands of structural problems in just hours. An extremely complex and sophisticated computer program developed by the Goddard Space Flight Center, NASTRAN performed complex structural analyses and predicted how it would react to conditions of stress and strain. Quick and inexpensive, the program minimized trial-and-error and made it possible to produce better, lighter, safer structures more quickly.
NASTRAN has been used by hundreds of industrial firms to solve structural problems in automotive, aircraft, chemical plant, oil refinery, rail vehicle and architectural design and was widely considered to be the most significant advancement in structural design and analysis available in recent time.
About MSC Software
MSC Software is the worldwide leader of multidiscipline simulation solutions that help companies improve quality, save time and reduce costs associated with designing and testing manufactured products. MSC Software works with thousands of companies worldwide to develop better products faster with simulation technology, software, and services. MSC Software is a global company with offices in 20 countries. For additional information about MSC Software's products and services, please visit: www.mscsoftware.com.
About the Space Technology Hall of Fame®
The Space Foundation's Space Technology Hall of Fame® honors technologies developed anywhere in the world for use in space that improve life on Earth. Inducted technologies include energy-saving technologies, life-saving medical devices, health improvement technologies, satellite and telecommunication technologies and practical commercial devices. Nominations are currently being accepted for 2012 induction. For details on the program and on submitting nominations, please visit: www.SpaceTechHallofFame.org.
 
This article is part of Space Watch: September 2011 (Volume: 10, Issue: 9).
---
Posted in Spotlight