Spotlight
---
Space Foundation Honoree Gets JPL Slot
Written by: developer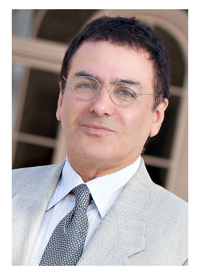 Space Technology Hall of Fame® inductee Firouz M. Naderi has been named director for solar system exploration for NASA's Jet Propulsion Laboratory (JPL) in Pasadena, Calif. Naderi, who was previously JPL's associate director for project formulation and strategy, was honored by the Space Foundation in 1997 as one of the innovators for advanced communications technologies that use satellites to transmit tremendous amounts of information via an all-digital, gigabit-capacity communications system.
About Naderi
In his new role, Naderi oversees JPL's robotic solar system missions, including new projects under development, the Cassini mission to Saturn, the Dawn mission to the giant asteroid Vesta, the Juno mission to Jupiter and GRAIL to Earth's moon. In addition, he is responsible for supporting NASA's human spaceflight program, which is being merged into the laboratory's Solar System Exploration Directorate.
In addition to his Space Technology Hall of Fame® induction, Naderi is a recipient of NASA's Outstanding Leadership Medal and Distinguished Service Medal, the Ellis Island Medal of Honor and the American Astronautical Society's William Randolph Lovelace II Award. A Fellow of the American Institute of Aeronautics and Astronautics, Naderi holds three degrees in electrical engineering: a bachelor's from Iowa State University in Ames, and a master's and doctorate from the University of Southern California in Los Angeles.
About Advanced Communications Technologies
The Advanced Communications Technology Satellite (ACTS), which operated from 1993 to 2004, used advanced on-board switching and processing technology for on-demand allocation of satellite channels and reuse of bandwidth and featured special antenna systems that generated message-carrying spot beams, each focused on a narrow Earth region instead of the broad beams generated by earlier satellites. These technologies reduced costs, enabling services such as remote medical imaging diagnostics, global personal communications, direct transmission of image data to battlefield commanders and interconnection of distantly-located supercomputers. To see the organizations and people, including Naderi, honored for this technology, click here.
About the Space Technology Hall of Fame®
The Space Foundation's  Space Technology Hall of Fame® honors technologies developed anywhere in the world for use in space that improve life on Earth. Inducted technologies include energy-saving technologies, life-saving medical devices, health improvement technologies, satellite and telecommunication technologies and practical commercial devices. Some noteworthy examples are the automatic external defibrillator; non-invasive breast biopsy technology; MRI and CAT scan imaging; anti-shock garments; LASIK eye surgery; implantable pacemakers and hearing aids; and technologies that power cellular phones, terrestrial networks and satellite broadcast television and radio communications. The 2011 inductees were two diverse technologies: Commercial Earth-Imaging Satellites, which have broad-reaching applications for national security, logistics and disaster prevention and relief; and Intrifuge CellXpansion technology, which promises help for a wide variety of diseases.
Nominations are currently being accepted for 2012 induction. For details on the program and on submitting nominations, click here.
This article is part of Space Watch: September 2011 (Volume: 10, Issue: 9).
---
Posted in Spotlight