Report from Headquarters
---
Holiday Travelers Learn About Space Impact
Written by: developer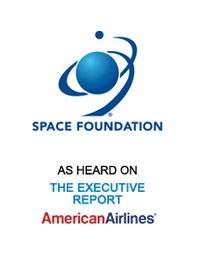 Holiday travelers are hearing about the phenomenal impact space has on their lives as they fly on American Airlines this month.
Space Foundation Director – Space Awareness Kevin Cook is featured in an interview on the airline's Executive Report onboard broadcast, where he talks about the benefits of space technologies for those of us on Earth – and in the air.
In the interview, Cook covers two Space Foundation programs: Space CertificationTM and the Space Technology Hall of Fame® and gives specific examples of space-based technologies, including several that improve airline operation and safety. He also discusses the power space exploration has to inspire young people to pursue scientific careers.
To hear the interview and/or read a transcript, click here.
To see results of a recent Space Foundation survey on the impact of space innovation on our lives, click here.
This article is part of Space Watch: December 2011 (Volume: 10, Issue: 12).
---
Posted in Report from Headquarters