Report from Headquarters
---
Teacher Liaison Profile: Marci Ward
Written by: developer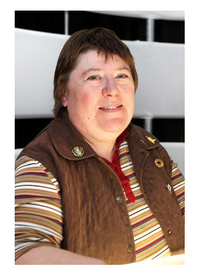 The Space Foundation is now accepting applications for our 2012 flight of Teacher Liaisons. This nationally recognized program provides a select few educators numerous benefits and privileges, helps strengthen their teaching skills, builds resumes and influences education at a national level.
Teacher Liaison applicants must have a desire to integrate space education within their curricula and inspire the next generation of students to excel in the areas of science, technology, engineering and math (STEM). Applicants do not need to be science or math teachers; every discipline may apply.
Marci Ward is in her fifth year as a Space Foundation Teacher Liaison. She is a 3rd grade teacher at Immaculate Conception Grade School, in Fairbanks, Alaska, where she has taught for 28 years.
"Marci is a dedicated and passionate educator," said Bobby Gagnon, who heads the Space Foundation Teacher Liaison program. "She has traveled from Alaska to Colorado to gain new resources and opportunities for her students. She embodies what it means to be a Teacher Liaison with the Space Foundation."
A new project for Ward this school year is launching a space science club for 3rd-6th graders, to be held after school one day per week beginning in January. The club's activities will lead up to a springtime project of building and launching rockets.
Ward stays busy sharing the message about the importance of STEM education. In September she was a presenter at the Alaska Statewide Math and Science Conference in Fairbanks.
"I feel very lucky to be a part of the Space Foundation," said Ward. "I love sharing what I am doing with other teachers and my class."
Ward is a 1982 graduate of the University of Alaska, Fairbanks.
Teachers may apply now to join Marci Ward and more than 250 other Space Foundation Teacher Liaisons nationwide who are dramatically improving their students' proficiency in STEM.
There is no fee to apply and no membership costs to be a Teacher Liaison. Apply for the 2012 program online by Dec. 9, 2011.
Additional information is available at www.SpaceFoundation.org/education, or contact Bobby Gagnon at [email protected].
Pictured: Space Foundation Teacher Liaison Marci Ward
This article is part of Space Watch: December 2011 (Volume: 10, Issue: 12).
---
Posted in Report from Headquarters