Space Symposium
---
Bolden to Share Vision for U.S. Space Program
Written by: developer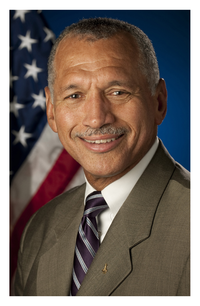 Now, more than ever, the space industry's leading decision makers want to hear from the head of the U.S. space program as he steers his organization through the critical months to come.
The Space Foundation's 28th National Space Symposium, which runs April16-19 at The Broadmoor Hotel in Colorado Springs, Colo., will feature NASA Administrator Charles F. Bolden, Jr., speaking about planning at NASA and its impact on all aspects of our nation's future in space.
About Bolden
Bolden's 34-year Marine Corps career included 14 years with NASA's Astronaut Office, as both an astronaut and in a number of technical assignments, including overseeing safety efforts for the return to flight after the 1986 Challenger accident, serving as lead astronaut for vehicle test and checkout at the Kennedy Space Center and serving as assistant deputy administrator at NASA Headquarters. Between 1986 and 1994, Bolden flew four space shuttle missions, commanding two. His flights included deployment of the Hubble Space Telescope and the first joint U.S.-Russian shuttle mission.
A graduate of the U.S. Naval Academy, Bolden flew more than 100 combat missions in North and South Vietnam, Laos and Cambodia while stationed in Thailand from 1972-1973. During his career, he served as deputy commandant at the U.S. Naval Academy; deputy commanding general of the 1st Marine Expeditionary Force in the Pacific; and commanding general of the 1st Marine Expeditionary Force Forward in support of Operation Desert Thunder in Kuwait. He was promoted to major general in 1998 and named deputy commander of U.S. Forces in Japan. He served as commanding general of the 3rd Marine Aircraft Wing at Marine Corps Air Station Miramar in San Diego, Calif., before retiring from the Marine Corps in 2003.
Prior to becoming NASA Administrator, Bolden was chief executive officer of JACKandPANTHER LLC, a leadership, military and aerospace consulting firm.
Bolden holds a masters degree in systems management from the University of Southern California and is a graduate of the Naval Test Pilot School. His many military decorations include the Defense Superior Service Medal and the Distinguished Flying Cross. He was inducted into the U.S. Astronaut Hall of Fame in May 2006.
About the 28th National Space Symposium
The Space Foundation's annual National Space Symposium is the premier gathering of the global space community and is offered in conjunction with a separate Space Foundation event, Cyber 1.2. Register for both to receive a substantial discount on the two events at www.NationalSpaceSymposium.org.
Pictured: NASA Administrator Charles F. Bolden, Jr.
This article is part of Space Watch: February 2012 (Volume: 11, Issue: 2).
---
Posted in Space Symposium