Space Foundation Press Releases
---
NASA Social Media Team to Receive 2012 Douglas S. Morrow Public Outreach Award
Written by: developer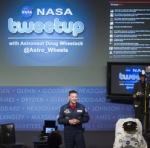 COLORADO SPRINGS, Colo. (Feb. 8, 2012) — The NASA Social Media Team has been selected as the winner of the Space Foundation's Douglas S. Morrow Public Outreach Award, which is presented annually to an individual, team or organization that has made significant contributions to public awareness of, and support for, space programs. The award will be presented during the opening ceremony of the 28th National Space Symposium, at The Broadmoor Hotel in Colorado Springs, Colo., on April 16.
"The NASA Social Media Team has been selected for this distinctive honor for creative and pioneering use of social media platforms including Facebook and Twitter, actively engaging millions of people around the world, and even in orbit, in the exciting missions of discovery that continue to be pioneered by America's space agency," said Space Foundation CEO Elliot Pulham. 
About the Morrow Award
The award's namesake was an Academy Award winning writer and producer, space advocate and early member of the board of directors of the Space Foundation. Designed to recognize those who have made significant contributions to public understanding of, and support for, space programs, the Morrow Award has a long list of distinguished recipients: astronaut Eileen Collins; actor/director Tom Hanks; the X PRIZE Foundation; space artist Robert T. McCall; the late Gene Roddenberry and Majel Barrett Roddenberry; the crew of Space Shuttle Mission STS-95; NASA's Jet Propulsion Laboratory; actor/director Leonard Nimoy; and in 2011, space journalists Jay Barbree, Marcia Dunn and William Harwood.
About the 28th National Space Symposium
The annual Space Foundation National Space Symposium brings together all sectors of space to highlight accomplishments and address opportunities and issues facing the global space community today. The Douglas S. Morrow Public Outreach Award is one of several honors to be presented during the Symposium. Other Space Foundation awards include:
General James E. Hill Lifetime Space Achievement Award, to be presented in 2012 to Gen. Thomas S. Moorman, Jr., USAF, Ret., former vice chief of staff of the Air Force 
Alan Shepard Technology in Education Award
John L. "Jack" Swigert, Jr., Award for Space Exploration
Space Achievement Award
Space Technology Hall of Fame
To Register
An Early Bird registration rate is available until March 16. See details at www.nationalspacesymposium.org/register
28th National Space Symposium and Cyber 1.2 Co-Sponsors
Confirmed co-sponsors include: a.i. solutions; Analytical Graphics, Inc. (AGI); ARES Corporation; Arianespace, Inc.; ATK; Ball Aerospace & Technologies Corp.; Blue Ridge Networks; The Boeing Company; Cisco Systems, Inc.; Euroconsult; Fluor; GMV USA; General Dynamics; Government Executive; Intelsat General Corporation; International Space University (ISU); Lockheed Martin; Maui Economic Development Board (MEDB); Moog; Northrop Grumman; Paradigm Secure Communications; Pratt & Whitney Rocketdyne; Raytheon; SES Government Solutions; Sherman & Howard L.L.C.; Space Generation Advisory Council; Space Systems/Loral; SpaceX; Stellar Solutions; United Launch Alliance (ULA). Official media partners include Aviation Week, SatNews Publishers and Space News. Sponsorship information can be found at: www.NationalSpaceSymposium.org.
About the Space Foundation
The foremost advocate for the space industry and an expert in all aspects of space, the Space Foundation is a global, nonprofit leader in space awareness, educational programs that bring space into the classroom and major industry events, including the National Space Symposium, all in support of its mission "to advance space-related endeavors to inspire, enable and propel humanity." The Space Foundation publishes The Space Report: The Authoritative Guide to Global Space Activity and provides three indexes that track daily performance of the space industry. Through its Space Certification and Space Technology Hall of Fame® programs, the Space Foundation recognizes space-based technologies and innovations that have been adapted to improve life on Earth. Founded in 1983 and headquartered in Colorado Springs, the Space Foundation conducts research and analysis and government affairs activities from its Washington, D.C., office and has a field office in Houston, Texas. For more information, visit www.SpaceFoundation.org. Follow us on Facebook, LinkedIn and Twitter, and read about the latest space news and Space Foundation activities in Space Watch.

Pictured: NASA Headquarters held its first Tweetup on July 21, 2009. Nearly 200 of NASA's Twitter followers attended the event, which featured a presentation and a Q&A session with the crew of the shuttle mission to repair the Hubble Space Telescope (STS-125). From left, crew members Scott Altman, Gregory Johnson, Megan McArthur, Andrew Feustel, John Grunsfeld, Michael Good and Michael Massimino. Photo Credit — Carla Cioffi

---
Posted in Space Foundation Press Releases