The View From Here
---
The View From Here: Inspiring!
Written by: developer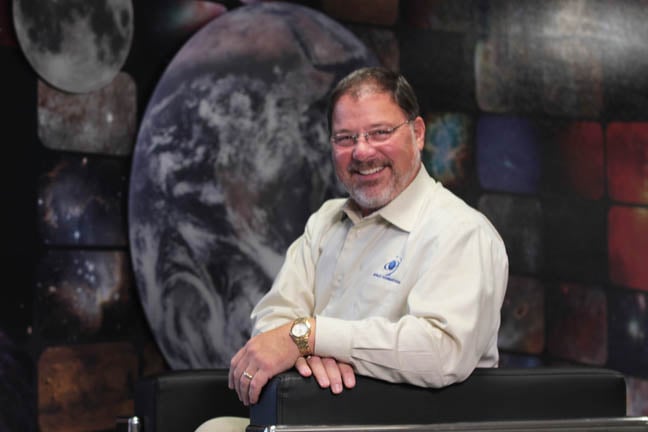 Wherever you look, something inspiring is going on in space.  It's no secret that the Space Foundation believes that inspiration is one of the most important things that space programs provide for humanity. The word is right upfront in our mission statement (to advance space-related endeavors to inspire, enable and propel humanity), and it is the inspirational and motivational power of space that directly fuels our education enterprise and its outreach to students and teachers around the world.
The Space Foundation works diligently to inspire the next generation of explorers and, through their parents and teachers, provide pedagogically sound STEM programs that will enable and propel them, too. As we do that, we often find that we are equally inspired.  We love this stuff, and we never get tired of it!
In January I had the opportunity to meet with the leadership of U.S. space forces in the Pacific - those supporting U.S. Pacific Command, Pacific Air Forces and U.S. Army Pacific. What these brilliant space warriors do every day to bring space capabilities to the largest area of operation in the world is truly remarkable. From helping Japan recover from last year's horrific tsunami, to anti-piracy operations, to supporting major allied exercises such as Talisman Saber in Australia, these space professionals inspire, enable and propel humanity every day. What is extra humbling is to hear them talk about all the help they get - whether it is the support of Civil Defense officials in preparation for the re-entry of Phobos-Grunt or the support of industry with payloads like CHIRP or emergency response to incidents virtually anywhere in the Pacific.
We also get a lot of "reverse inspiration" from the students and teachers we work with. I often say that some of the most rewarding hours of my job are those I spend in the classroom. I enjoyed a double-dose reminder of this mutual-inspiration-society relationship recently, in the form of a mangled, well-traveled and heavily postmarked student art contest entry from Pakistan, and a new agreement to provide both student and teacher STEM education New Horizons programs in Fairbanks, Alaska.
But what is truly new in the Inspiration department for the Space Foundation is the public opening in late January of our new headquarters facility in Colorado Springs. While the work we do has always been a highly motivating labor of love, the new environment we're creating provides a place where people can be inspired just by walking in the front door.
Whether it is the remarkable, soaring mural created by artist Douglas Rouse, the "Leonardo da Vinci" Space Shuttle sculpture created by Robert Sweeney and donated by ITT or the 1-20th scale Delta IV Heavy model donated by United Launch Alliance, team members and visitors alike are uplifted the moment they enter. The General James E. Hill Award and the John L. "Jack" Swigert, Jr., Award for Space Exploration serve as reminders of what humans can accomplish in space. Elsewhere in the building, named conference rooms honor the stellar careers of space warriors General James E. Hill, General Howell Estes, III, and General Thomas S. Moorman, Jr., (all USAF Retired).
The first phase of our relocation focused on our immediate operational requirements - and we have plenty of people to thank for their extraordinary support. Foremost among them are El Pomar Foundation, the Anna Keesling Ackerman Fund, the State of Colorado, Bryan Construction, the Anschutz Foundation, the E.L. and Thelma Gaylord Foundation and The Broadmoor Hotel, to name few.
What we've been able to do in our public spaces, with the help of our supporters, provides a glimpse at the public inspiration yet to come. Over the next 12 to 24 months we'll be working (and, of course, raising funds) for the visitor center component of our new HQ. As you would expect, major elements will directly support our inspire, enable and propel mission, including a physical Space Technology Hall of Fame®, a digital interactive teaching and distance delivery education auditorium and a Science On a Sphere® learning laboratory. Those three facilities will all need sponsors, so please contact me if you'd like your organization's name "up in lights." Because we also need general construction funding, donations of any size matter.
What makes us so enthusiastic, even in this lousy economy, is that space matters to people: we are already receiving contributions of historic space artifacts, hardware, models and mockups - everything from personal items flown by astronauts to large-scale satellite and spacecraft mockups. In addition to the 1/20th scale Delta IV Heavy, ULA has donated two Atlas V models at the same scale, Arianespace has provided a same-scale Ariane 4 and pledged Ariane 5 and Soyuz models-- and that is just the tip of the iceberg. Lockheed Martin is fully restoring a full-scale Mars Viking Lander mockup, Northrop Grumman is making a long-term loan of a historic quarter-scale Lunar Excursion Module engineering mockup and both SES and Ball Aerospace & Terchnologies Corp. are providing high-fidelity satellite models.
Much, much more is to come. We're pleased to be playing a pivotal role in bringing a world-class space visitor center to one of the most important space cities in the world!
We hope you'll join us in this important voyage of inspiration - and we promise not to take our eye off the ball in any of the other important mission areas we already pursue. This ability to passionately care about all sectors of the space community is crucial to who we are, and what makes us so different from any other space organization in the world. Whether it is STEM education, national and international space policy, the National Space Symposium, space research and analysis or space awareness programs, we embrace it all and are never afraid to take on more work if it serves our mission and our customers.
The View from Here is that our new HQ is becoming a game changer in our mission to inspire, enable and propel humanity. We look forward to your continued partnership, and, hey, drop in anytime you need a little inspiration!
This article is part of Space Watch: March 2012 (Volume: 11, Issue: 3).
---
Posted in The View From Here