Education
---
Charles County Public Schools Extends Contract with Space Foundation
Written by: developer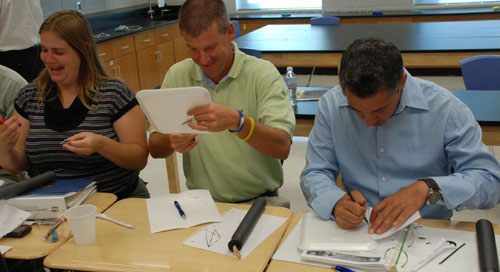 Charles County Public Schools (CCPS) in Charles County, Md., has extended its contract with the Space Foundation for another year of Space Across the Curriculum courses for its teachers.
The Space Foundation will be delivering four Space Across the Curriculum courses over a two week period spanning July and August this summer. Each course can accommodate up to 50 participants.
The courses are:
July 23-27 (two classes)
Astronomy Principles for the Classroom: Kinesthetic Astronomy
Space Technologies for the Classroom: Robotics and Nanotechnology
July 30-August 3 (two classes)
Biological and Physical Research: Long Term Space Travel
Rocketry: Space History and the Future of Spaceflight
The Space Foundation started offering education programs in 1986 that grew into today's Space Across the Curriculum. The intense week-long courses, which feature space-related curriculum based on national standards and science, technology, engineering and mathematics (STEM) principles, are experiential, hands-on, and immediately transferable to the classroom.
The Space Foundation relationship with Charles County began in 2007. Since the initial two weeks of training provided the first year, the program expanded into one that has reached teachers, students and community members with innovative and inspiring space-themed classes, workshops, programs and events. Located in Southern Maryland south of Washington, D.C., Charles County is considered part of the Washington, D.C., metropolitan area.
See more about Space Foundation education programs at www.spacefoundation.org/education
Pictured: Designing rockets in a 2011 Space Across the Curriculum rocketry course in Charles County, Md.
This article is part of Space Watch: May 2012 (Volume: 11, Issue: 5).
---
Posted in Education