Education
---
Eagle Scout Project Enhances Space Foundation Lab
Written by: developer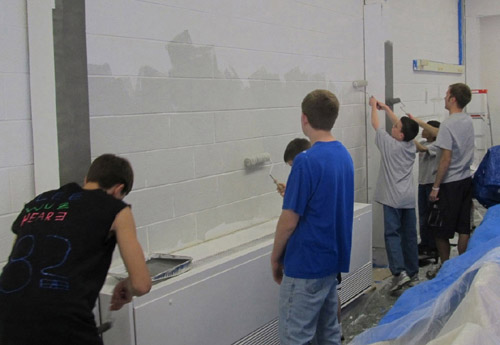 The AGI Space Missions Simulator at the Space Foundation Discovery Institute in Colorado Springs, Colo., recently received a facelift, courtesy of David White, an Eagle Scout candidate from local Troop 2, who chose the Space Foundation upgrade as his project to attain Eagle status. White organized Scouts from his troop to spend two weekends priming and painting the lab.
The lab opened in 2012, when Analytical Graphics, Inc. (AGI), donated software, licensing and new computer equipment valued at more than $3 million to start the education lab at the newly established Space Foundation Discovery Institute. The lab allows students and teachers to learn about satellites, design their own satellite orbits, track their satellites and simulate Mars missions. The Space Foundation added a Mars Yard and Robotics Lab to the Institute in 2011.
Now that the painting has been completed, the Space Foundation will add more upgrades to the lab, including a Smart Board and some large screen TVs. A grant written through the partnership between the Jack Swigert Aerospace Academy in Colorado Springs and the Space Foundation establishes that money from the grant is set aside to upgrade both the AGI Space Missions Simulator and the Mars Yard and Robotics Lab to enhance mission capabilities for students and teachers.
Space Foundation labs and education programs focus on science, technology, engineering and mathematics (STEM), helping to develop the next generation of space professionals and building the overall technological strength of the nation.
Educators may inquire about scheduling lab missions by contacting the Space Foundation at 719.576.8000.
This article is part of Space Watch: May 2012 (Volume: 11, Issue: 5).
---
Posted in Education