The View From Here
---
Space Industry Has More "Right Stuff" Than Ever
Written by: developer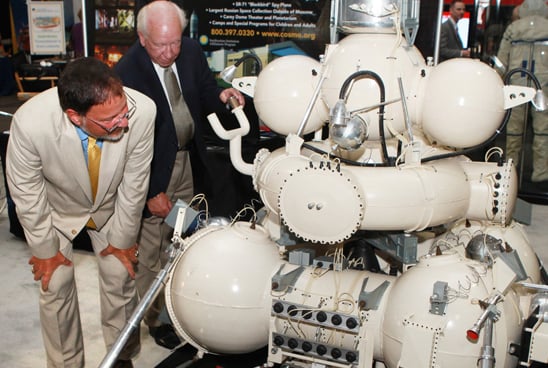 If there's one thing this spring season has demonstrated, it is the fact that our space industry, around the world, has more of the "Right Stuff" than ever before. Consider, for a moment, our recently completed 28th National Space Symposium.
Despite the fact that U.S. government spending on space is flat or declining and that core Space Foundation member companies focused on government contracting are undergoing extreme stress, our 2012 Symposium was the biggest and best ever - growing by 10 percent in key areas and with attendance as strong as ever. That is a real testament to the resilience of the global space community and a real-as-it-gets demonstration of the growth that is taking place in the commercial space sector and among non-U.S. space agencies.
While business-to-business transactions and informative dialog with government customers has always been the hallmark of the Space Symposium, our just-completed event has generated the strongest customer feedback yet. "The most successful trade show we've ever participated in," and "our best and most productive Symposium ever" are typical of the comments that our corporate member companies, exhibitors and sponsors have shared with me. This year, we were able to accommodate 42 new exhibiting organizations, and many have already contracted for larger exhibit spaces for next year.
Our Space Foundation mission To advance space-related endeavors to Inspire, Enable and Propel Humanity has also benefitted from this "can do" attitude on the part of the global space community. I was thrilled to be able to announce at the Symposium a major contribution from Northrop Grumman, which will be used to establish the Northrop Grumman Science Center featuring Science On a Sphere® at Space Foundation World Headquarters in Colorado Springs, Colo. The Northrop Grumman Science Center will include a space and earth systems instructional laboratory complete with the amazing Science On a Sphere, developed by researchers at NOAA.
These important additions to our headquarters are giving us a real jump-start on our plans to create a worldclass space visitors center in Colorado Springs. If you think about it, Colorado Springs is probably the largest and most important "space city" in the world to NOT have a space visitors center of some kind. Thanks to the generous support of companies and organizations such as Northrop Grumman, we are well on our way to addressing that deficiency.
Other companies and organizations are donating equipment, mockups, models and money toward the effort - which will create a visitors center serving an estimated 625,000 Pikes Peak area residents, five military bases and more than 6 million visitors per year. (Our county, El Paso County, has now surpassed Denver County as Colorado's most populous.) During the Space Symposium, we were also able to announce the loan of several Soviet-era space artifacts from the Kansas Cosmosphere, with additional announcements expected in the near future. (That's me in the picture checking out the Luna 16 Probe model.)
And there's a lot more going on these days that certainly qualifies as the "Right Stuff" from our industry partners.
As I write this missive, a SpaceX Dragon capsule mated to its Falcon 9 launch vehicle is counting down toward a historic mission to become the first commercial company to fly a spacecraft to the International Space Station, dock, transfer cargo, and return. Hot on the heels of this mission, Orbital Sciences prepares to conduct the first test flight of its Antares launch vehicle, to be followed by a similar test flight of its Cygnus capsule. And up the road from Space Foundation headquarters, Sierra Nevada Corp. nears completion of the first flight test vehicle in its Dreamchaser family of reusable commercial crew vehicles.
Meanwhile, development and test of the Orion crew capsule by Lockheed Martin continues on schedule, with an eye toward an ambitious first flight test in 2014, while The Boeing Company has been conducting a series of progressively more challenging parachute and landing tests of its CTS-100 crew and cargo spacecraft.
And, as if that weren't all enough, a company called Stratolaunch Systems was recently formed by aerospace and technology pioneers Burt Rutan, Paul Allen and Elon Musk - to apply the carrier-craft architecture of the SpaceShipTwo/Virgin Galactic system to the orbital payload delivery business. Not to be outdone, XPrize visionary Peter Diamandis and space tourism pioneer Eric Anderson of Space Adventures, announced only a week after the Symposium the formation of a new company that plans to make money by mining asteroids.
Our friends at Arianespace have two Ariane 5 heavy lift launch vehicles in preparation for missions May 15 and June 19, both with dual satellite payloads. United Launch Alliance is set to boost the AEHF-2 satellite atop an Atlas V on May 3. JAXA has a dual-payload mission set to launch atop an HIIA on May 18. Sea Launch will be orbiting Intelsat 19 this month. ILS just completed a successful Proton launch for Yahsat - its third Proton launch of the year and ISRO successfully orbited a Radar Imaging Satellite (RISAT-1) just last week.
Fresh from bringing its Beidou satellite navigation constellation to 13 satellites with a dual manifest launch April 30, China is expected to launch its next manned space mission this summer - one that is expected to see a taikonaut crew dock with the Taingong-1 space station module. Meanwhile, Russian cosmonauts Gennady Padalka and Sergei Revin and NASA astronaut Joseph Acaba have passed all their preflight exams and are set to blast off to the International Space Station mid-month.
And all this stuff - the "Right Stuff," to be sure - is just the tip of the iceberg. With commercial satellite services growing worldwide, GPS systems and applications becoming the critical infrastructure of modern life, and vehicles, engines, satellites and systems in development all over the planet, the global space community is charging hot on the heels of the record growth rate of 12.2 percent set in 2011.
From educational programs on earth to hotels in space - the View From Here is that this industry has the "Right Stuff" to make it happen!
This article is part of Space Watch: May 2012 (Volume: 11, Issue: 5).
---
Posted in The View From Here