International Affairs
---
China's Space Program Reaches Milestone in Space Station Plan
Written by: developer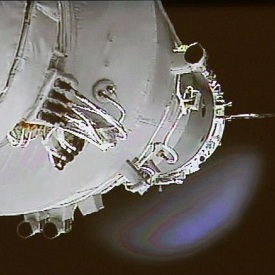 A Chinese Shenzhou 9 capsule aligned with the Tiangong 1 module spacecraft on June 24, marking an important accomplishment toward's China's goal of building a space station by 2020. Three astronauts - including china's first female astronaut - manually docked their craft using hand levers with the orbiting module.
The crew, which includes Commander Jing Haipeng, Liu Wang and Liu Yang, launched atop a Long March-2F rocket from the Jiuquan space center in the Gobi Desert in western China on June 16. The remote-controlled docking process took under ten minutes and was shown live on state-run television in China.
Wu Ping, a spokeswoman of China's manned space program said the manual space docking was "a complete success." The only other nations to have accomplished this feat are the United States and Russia.
The China National Space Administration (CNSA) has now sent eight astronauts into space, including two-time space traveler Jing.
The 9.4-ton Tiangong-1 module, launched and placed in orbit in September 2010, is a testing platform for rendezvous and docking missions. The planned space station program is called Tiangong or "Heavenly Palace."
In 2009, the Space Foundation honored a previous Chinese manned mission, Shenzhou 7, at the 25th National Space Symposium with the prestigious Space Achievement Award, citing landmark accomplishments, including the first Chinese flight of a three-person crew, an impressive first space walk, and demonstrated capabilities for orbital rendezvous and docking.
This article is part of Space Watch: July 2012 (Volume: 11, Issue: 7).
---
Posted in International Affairs